Ricky is a sweet boy. A bit shy today, but that's to be expected. The information below will be updated as Ricky progresses.
Last update: Jan 3, 2018
Base Info: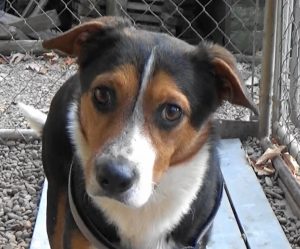 Breed: Beagle/Border Collie
Sex: Male
Weight: Approx. 30 pounds
Spay/Neutered: Yes
Age: 7-8 months (as of Nov. 2017)
General Health: Good. Up to date on all shots. HW-neg and on a preventative.
Temperament: Shy with new people. Skittish with some big dogs. Bouncy and friendly with people he knows.
History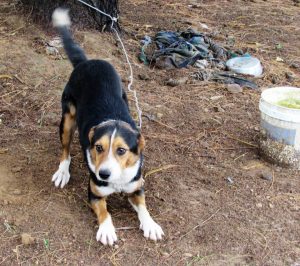 Ricky was rescued from a neglectful situation where he was on a 3 foot cable in an area with several others dogs. At least one of those dogs would occasionally attack Ricky. Their water was green! He was brought into Steele Away Home's program but his first foster has chickens — and Ricky likes to chase chickens … and sometimes cats. So he came here.
Known Issues & Progress
Ricky's former foster has done well at settling Ricky down: he was a nervous wreck at first, and getting him healthy and healed up. He needs a fowl-free location and some constructive interaction with other dogs as well as socialization with new people. Ricky became tightly bonded to his Foster mom.
Housebreaking
Not started – have another foster (Roscoe) in the house now.
Gets Along With Other Dogs
Ricky becomes defensive when Roscoe approaches his fence, but Roscoe turns and runs away, "Mean dog, mean dog!". Ricky is fine with his neighbor Sylvia, they have been playing in the yard together, and loves to play with Josephine (because she will play with him). He's neutral with the others.
People Skills
Quite nervous and a little defensive once his previous foster Mom left him here. That improved over the first week. Then he let me approach, pet, and finally put a collar on him. Now he is excited at my visits and wants to play. He has become fond of being petted and will stand still to enjoy that.
He is walking well on a leash now.
Miscellaneous
Once I was able to get a collar on him, so I could attach a long free lead, I let him run in the yard. This boy LOVES to run, and will spend most of his play time running like the wind. Sylvia is teaching him to jump. He's good at that too! Once he discovered the joys of being petted, he spends less time running.
I was told Wednesday Jan 3rd that Ricky has been accepted somewhere and will be leaving on the rescue run Friday, Jan 5th.
Gallery
| | | |
| --- | --- | --- |
| | If you enjoy our updates, Doggy Tales, and educational articles consider subscribing for notices when new pieces are posted. It's painless and you can unsubscribe any time you want. Your e-mail address is used ONLY to deliver these notices. | |