Sasha is a sweet, smart, and loving girl who holds much promise.

Last updated: February 24, 2018
Base Info: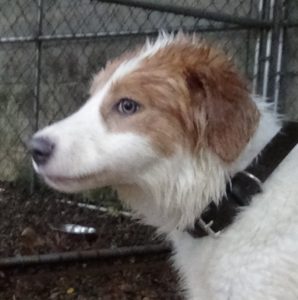 Arrival date: February 16, 2018
Breed: Border Collie mix
Sex: Female
Age: 7 months
Weight: 40 pounds(?)
Spay/Neutered: No
General Health: Good.
Temperament: Sweet and playful
History
Picked up as a stray running at large by Newport Animal Control, she was not claimed nor adopted and was in danger of being put down, so they called Steele Away Home. We did not have any open fosters but a transport was leaving in a few days: that would open up some homes. Cedarwood Veterinary Hospital agreed to board her until a foster opened up. And here she is!
Known Issues & Progress
Sasha looks to be in good shape and is a sweet tempered, friendly little thing. The folks at Cedarwood say she is SUPER smart and has already learned several commands.
Sasha is an Aussie in temperament: that makes her smart and active. She will never be a good apartment dog, but for someone with some room to play she will be a great family companion. From what I can see so far, she should be good with kids too: she's active, but not violent.
People Skills
Sasha has done well. She has proven to be affectionate and obedient — most of the time. Sometimes she develops "selective hearing" when I call her and she's doing something fun. She knows"come", "off", "sit", "fetch", and "play".
She can be excited and bouncy when she first comes out of her pen, but settles down nicely once she's run off some of that energy. She has been friendly and accepting of everyone who has visited here.
When I'm sitting in a chair outside, supervising a "free play" period, Sasha often swings by and lays across my lap to get some head pets before going back to play with the others.
Gets Along With Other Dogs
Yes. She is eager to play with everyone. Sasha and Josephine have already had a successful play session. The older dogs may not appreciate her exuberance, but so far she is sensitive to this and scales back when she got to be annoying to Josie. (Video below)
Housebreaking
I've started working with her on this using her pen. She has come to prefer not to poop in her pen. As long as I'm consistent with her play times she complies.
She is good in a crate.
Miscellaneous
She gets bored in her pen and likes to toss around her water dish. That makes it hard to be sure she always has access to water. I gave her a chew toy and a ropey toy hoping she'd play with those instead. She seized on the ropey toy and immediately used it like a golf club to smack her freshly filled water dish across the pen. (sigh)
I have a plan … see Water Dish-Toy video below.
Feb 24th: Sasha left us today. Another foster home had a dog they could not handle. All the foster homes are full, so it was decided to trade one of my well-behaved girls for the one who needs more work. Sasha was selected for the trade. She'll do fine there, Sasha gets along with everyone.
Gallery
In roughly chronological order, newest at the bottom. Click the thumbnails to enlarge.
Some pictures are linked to Doggy Tales about Sasha, click those to open the related story.
Solving Sasha's penchant for water dish tossing. (click for vid)
| | | |
| --- | --- | --- |
| | If you enjoy our updates, Doggy Tales, and educational articles consider subscribing for notices when new pieces are posted. It's painless and you can unsubscribe any time you want. Your e-mail address is used ONLY to deliver these notices. | |