Found running loose and picked up by a good Samaritan, Zoey is starting life over.
Last Updated: Sept 10, 2022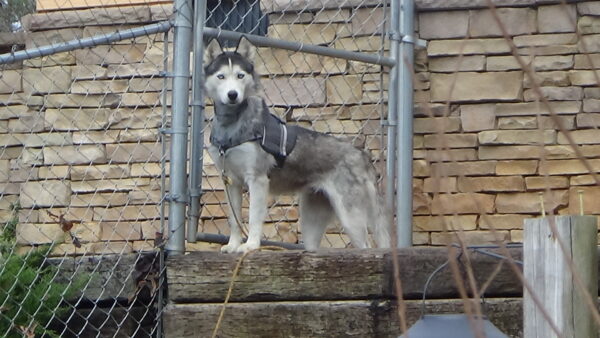 History
Zoey was found running loose along with a 13 week puppy. Maybe her puppy, we don't know. Both are Husky. A kind lady picked them up and took them to City of Newport Animal Control to check for microchip and publish Found Dog notices. No chip. No one claimed them. So they both came to Piney Mountain Foster Care for fostering while awaiting transport to A Pathway to Hope rescue in New Jersey.
Base Info
Arrival date: Feb 7, 2022
Breed: Husky
Sex: Female
Age: Adult
Birthdate: Approx Feb. 2020
Weight: 54.5 pounds on Feb 7
……….. 51.2 Lbs on Mar 1 (Not eating kibble well, adding canned food)
………… 55.6 lbs on Apr 27
………… 55.0 lbs on July 1
Spayed/Neutered: Yes
General Health: Excellent
Temperament: On the calm, quiet side for a Husky.
SAFER Test performed: No
Departure date: Undetermined
Relational Behavior
Relates well to other dogs: Yes, most dogs.
Can eat food/treats near other dogs: Yes.
Preferred style of play: Running. She LOVES to run/race/bump with another dog.
Is affectionate: Yes, aloof but likes petting
Is good with:
. Men: Yes
. Women: Yes
. Children: Yes
. Cats: Unknown, but probably. Sits quietly and watches feral cats while others go bonkers.
Jumps up on people: No
Mouths: No
Walks well on a leash: Yes
Commands
Comes when called: Yes
Sits on command: Yes
Down / Off: N/A
Shake / Paw: Not yet
Kennels on command: Yes
Adoption Information
Zoey is promised to A Pathway to Hope in Hawthorne NJ. Please contact them regarding adoption. We are happy to answer questions about Zoey's health and history, since we know her best.
We also post photos and short stories to Facebook daily.
---
---
Sept 10, 2022
Zoey has been successfully transported to New York state where her foster-to-adopt family welcomed her into their home. They have kindly sent several pictures and descriptions of her settling process. I think this one says the most. This is Zoey's new sister, Luna, showing Zoey around the place. Zoey is both enthralled with and intimidated by the pool. So much more exciting than the big box of water she enjoyed here!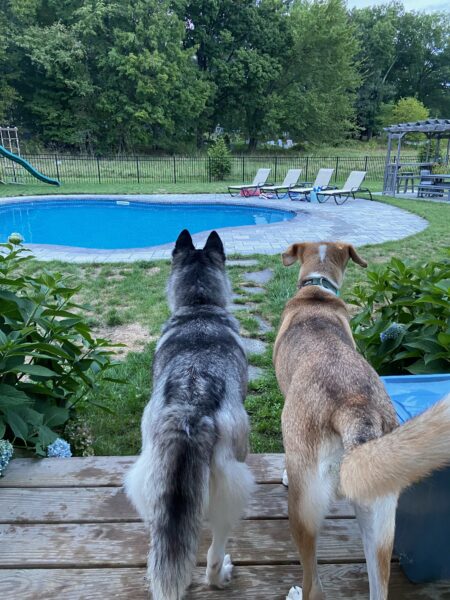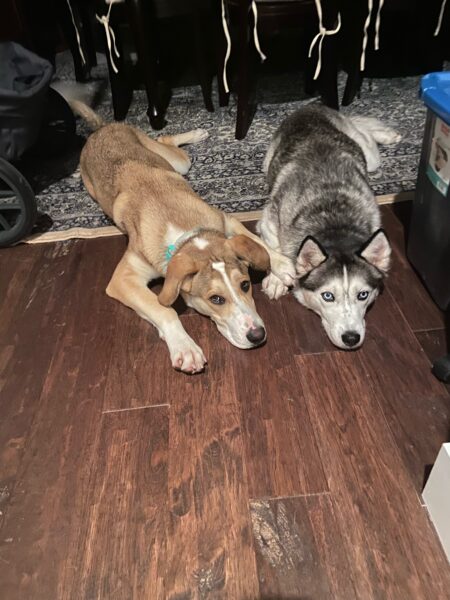 Want to help save lives?
Everyone involved with PMFC is a volunteer,
no donated funds go to salaries or benefits.
We are 501(c)(3) – EIN: 84-3593563