Last Updated: Sept 22, 2022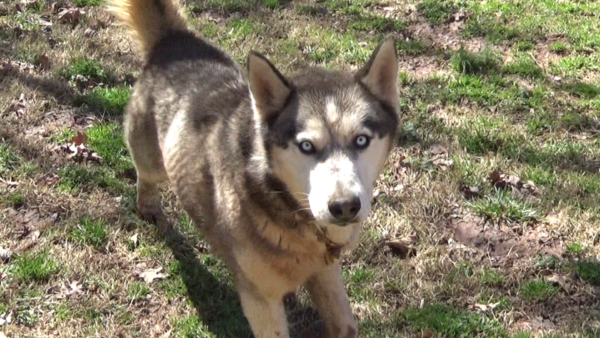 History
Zane was one of three dogs dumped on Piney Mountain Rd and accused of killing a residents rabbits. Reaction included gunfire. To keep them safe, PMFC built an emergency shelter and took them in. Zane's companions were a pair of 9 month hound pups: friends but clearly not relatives.
Base Info
Arrival date: Feb 18, 2022
Breed: Siberian Husky
Sex: Male
Age: Adult (currently 4-5 years)
Birthdate: 2017
Weight: 48 pounds on Feb 14 (should be 70)
……….. 52 pounds March 1
………… 57 pounds March 11
………… 66 pounds May 25
………… 70 pounds Aug 1
Spayed/Neutered: Yes
General Health: Excellent
Temperament: Mild for a Husky
SAFER Test performed: No
Departure date: Undetermined
Relational Behavior
Relates well to other dogs: Yes, responds stoically to antagonistic kenneled dogs.
Can eat food/treats near other dogs: Has become guarded, but not excessively.
Preferred style of play: Mixed. Can play gently or rowdy.
Is affectionate: Yes, mostly aloof but does enjoy petting and treats.
Is good with:
. Men: Yes
. Women: Yes
. Children: Unknown, but probably.
. Cats: Unknown
Jumps up on people: No
Mouths: No
Walks well on a leash: Yes
Commands
Comes when called: Generally – depends on if he's busy. He IS a Husky.
Sits on command: Yes.
Down / Off: N/A
Shake / Paw: Yes
Kennels on command: Yes
Observations
Zane tolerates The Children's (his hound companions) rambunctious behavior but does not enjoy it. Sometimes they gently mouth-wrestle, he likes that. He does not like being dirty, and seems to want to be indoors. He may have been a house dog.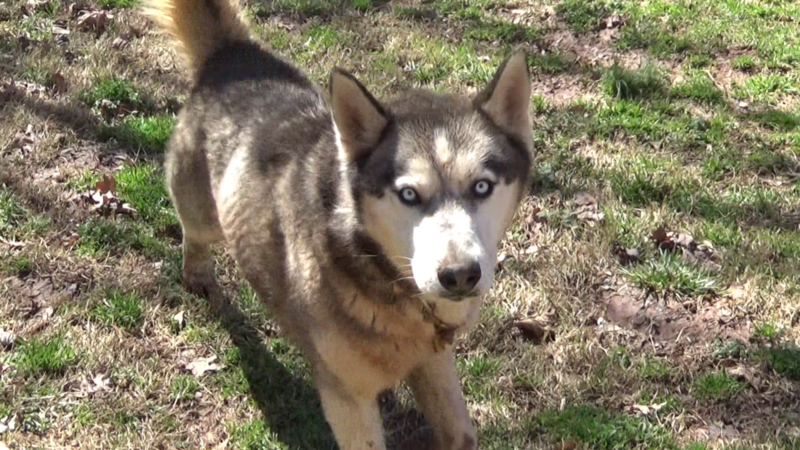 ---
Separator
Heartworm Treatment
Zane tested positive for heartworms on March 11, 2022. It was a STRONG positive, so a microscopic exam of his blood was done confirming that his count is exceptionally high. The Vet Nurse warned that he may not be savable.
On March 15th we went in again and had chest x-rays done. His heart was NOT enlarged and no serious lung damage was seen. That was encouraging. We started him on Doxycycline and Prednisone, the first step in treating the heartworms.
Zane received his first Immiticide injection on April 25th, and he tolerated it quite well. Another 3 weeks of Prednisone to reduce inflammation in the lungs.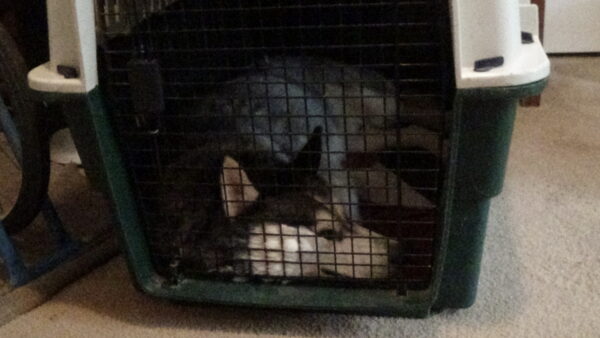 His 2nd and 3rd injections were done on May 24th and 25th. This left him feeling sick and sore for a few days. I tried bringing him into our house, but he just whined and fidgeted. When the other House Dogs came to say "hello" he warned them off – not being mean, just a low growl to let them know he'd prefer to be left alone. He was in pain and in an unfamiliar place. When I took him outside to potty he went straight to the gate that leads to The Guest Cottage and said, "I want to go back to MY house." I moved his crate back in there so he'd be more comfortable.
Zane will be going back to Cedarwood Veterinary Hospital on June 22 for a blood test to check for HW microfilaria. Until then I must keep him from getting overactive. He is on crate rest and leash walking while in recovery to prevent dead worm tissue causing an embolism in his lung. A bad embolism would cause him to drown in his own blood.
That blood test revealed a very low cunt of microfilaria, but they ARE still there. He gets another dose of Heartgard in a couple of days, that will take care of those. Another blood test is scheduled for next month.
Zane passed a blood test in August and was neutered. He is now available for placement.
---
More will be added as care and training progress. To receive notices of updates subscribe below. It's painless and you can unsubscribe any time you want. Your e-mail address is used ONLY to deliver post notices. That's a promise!
Want to help save lives?
Everyone involved with PMFC is a volunteer,
no donated funds go to salaries or benefits.
We are 501(c)(3) – EIN: 84-3593563