Born through a disreputable breeding practice, this Double Merle Aussie girl has had a rough time in her short life so far.
Last Updated: March, 27, 2022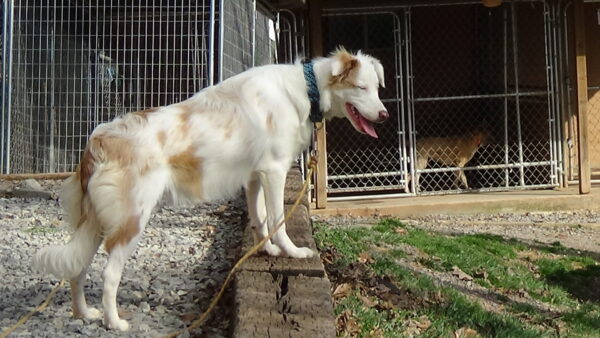 History
One of three puppies born from the breeding of two Merle Australian Shepherds, all three had issues with hearing and eyesight. The breeder surrendered the pups to a local rescue. Sevier County Humane Society pulled the pups from the rescue and reached out to Piney Mountain Foster for help with the two who were deaf. We contacted A Pathway to Hope in New Jersey, and they agreed to take them. The third pup, Ariel, was adopted out. She was returned several months later with a lame excuse as the reason. It is clear the adopter did not train the dog and when the cute, bouncy, nibbling ball of fluff got to be 35 pounds she was no longer "adorable". We see this all the time. She was abandoned because she did not train herself.
Base Info
Arrival date: March 3, 2022
Breed: Australian Shepherd
Sex: F
Age: Youth
Birth date: July 19, 2021
Weight: 37.4 pounds on March 3, 2022
………..
Spayed/Neutered: Yes
General Health: Good
Temperament: Rowdy, playful, affectionate.
SAFER Test performed: No
Departure date: Undetermined
Relational Behavior
Relates well to other dogs: Yes. Tries to make friends with everyone
Can eat food/treats near other dogs: Tends to invade other dogs bowl.
Preferred style of play: Running and rowdy play.
Is affectionate: Yes
Is good with:
. Men: Yes
. Women: Yes
. Children: Yes, though too rowdy right now for young children.
. Cats: Unknown
Jumps up on people: Yes
Mouths: Doing better
Walks well on a leash: Doing better
Commands
Comes when called: She's hard of hearing, don't think she can hear me.
Sits on command: Yes (use hand signal)
Down / Off: Not yet
Shake / Paw: Not yet
Kennels on command: Yes, use hand signal, expects a treat.
Diet
4Health Puppy kibble mixed with one Pedigree Pouch, fed morning and evening.
She gets a variety of treats through the day as rewards for obedience.
Observations
Hearing
Ariel is not completely deaf, she responds to barking dogs and closing the front door hard it will wake her from a sleep. The floor is concrete, I don't think she's feeling vibrations. But she does not seem to be able to hear me speaking or calling her. Maybe she chooses not to hear, it's hard to say.
Vision
Ariel navigates the Cottage and the play yard just fine. The way she throws her forelegs out in front of her when she runs makes me think she is visually impaired – especially in the left eye. She may lack depth perception, but can see well enough to get along. Both pupils are irregular. Vision may be distorted.
General
Ariel is smart and she does train. But one must find a way to communicate to her what you want her to do — and to get past the flighty, rowdiness that she still engages in since she still thinks she's a little puppy.
She approaches all of my dogs with a submissive, almost pleading attitude, "Please be my friend", even the dogs, sometimes especially the dogs, who are yelling at her that she doesn't belong here. I have not seen her respond in aggression to any other dog. She has found a good friend in Zoey (female Husky) and they play well together.
When I get a second handler out here I will test her with other dogs in open play. Many times a dog in a kennel will harass a roaming dog when they will not behave that way if both are free or the roles are reversed.
More will be added as care and training progress. To receive notices of updates subscribe below. It's painless and you can unsubscribe any time you want. Your e-mail address is used ONLY to deliver post notices. That's a promise!
Want to help save lives?
Everyone involved with PMFC is a volunteer,
no donated funds go to salaries or benefits.
We are 501(c)(3) – EIN: 84-3593563
[give_form id="24755″]