Although this young Husky looks a little rough at the moment, she is indeed one foxy lady! Even more so once I got her brushed out.
Last updated: May 18, 2018
Base Info: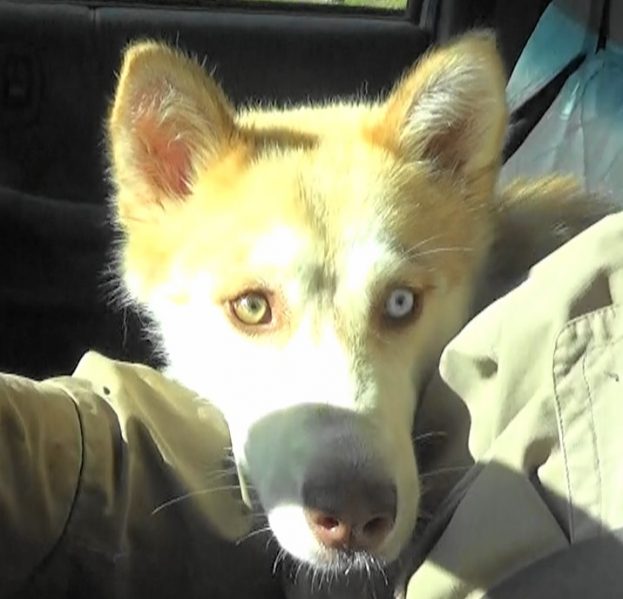 Arrival date: April 24th, 2018
Breed: Husky
Sex: Female
Age: @ 1 year
Weight: @45 pounds
Spay/Neutered: Yes
General Health: Appears healthy. Has had her vaccinations and worming. HW test was negative.
Temperament: She's SO sweet! A real snuggle-bug. Quite gentle.
History
Foxy was surrendered by her owner to Animal Control. She stated she had given Foxy away to two other families, both brought her back. That's the factual information.
I would conjecture that this is yet another case of someone adopting a Husky pup because she was SO cute, but without knowing anything about Huskies. The pup was likely raised without any training until she got big enough to become a nuisance by being her bouncy, happy-go-lucky self. Then it's "we have to get rid of this dog, she's out of control" time.
And of course: it's the DOG'S fault.
Fortunately N.A.C. recognized that Foxy would not do well in a shelter and called Steele Away Home. Jen already has her placed with a Husky rescue, I'll work with her until that transport and Foxy will find a home where her people appreciate the strong, quirky personalities of these wonderful dogs.
Foxy went on rescue transport on May 18th for adoption
Known Issues & Progress
Being a Husky, she dislikes confinement and stresses out easily. Newport Animal Control was not the place for her to find a new home, so they asked Steele Away Home if we would take her in. When I arrived, the Manager at N.A.C. said "She's a screamer." and that was evident while I was talking with Lisa.
I let Foxy sniff the back of my hand. She said I was okay. I went into her pen and we got better acquainted. I let her sniff the collar I brought. Her mood brightened. She was happy to let me put the collar on her and clip a leash to it. She started dancing on the gate of her kennel "I'm getting out, I'm getting out!" She was thrilled!
People Skills
Excellent. She is affectionate and responsive. Quite bright too. She likes to play and LOVES to run. She adores our 1/3 acre play yard.
Gets Along With Other Dogs
Foxy gets along with all of our 6 other dogs. She likes to play with Josephine. She and Rainy got to play a few times before Rainy began heartworm treatments and had to go on activity restriction. Those play sessions went excellently. Those who don't enjoy rowdy play say, "No thanks" to her invitation and she leaves them alone.
Housebreaking
Working on it, she's doing well
Miscellaneous
Foxy walks well on a leash.
She is an excellent rider.
Now that's she's settled in, if she gets frustrated she makes "screaming monkey noises". At night I crate her indoors. When she wants to go out she just chitters at me softly — unless I take too long and her need gets urgent. She does not like being left alone for more than about … oh … forty seconds.
Gallery
In roughly chronological order, newest at the bottom. Click the thumbnails to enlarge.
Some pictures are linked to Doggy Tales about Foxy, click those to open the related story.
Foxy got too warm during the night and worked diligently to wad all her bedding to one side.  Rainy is convinced Foxy is nuts for doing so.
| | | |
| --- | --- | --- |
| | If you enjoy our updates, Doggy Tales, and educational articles consider subscribing for notices when new pieces are posted. It's painless and you can unsubscribe any time you want. Your e-mail address is used ONLY to deliver these notices. | |