Highland was at the top of Animal Control's "At Risk" list because he has a gimpy leg. He needed help right away.
Last updated: Oct 31, 2018
Base Info:
Arrival date: Oct 5, 2018
Breed: Retriever, Black Lab mix
Sex: Male
Age: Young, Adult, Mature, Senior
Weight:45 pounds
Spay/Neutered: 10/27/2018
General Health: Excellent
Temperament: For a Lab, he's unusually calm. He is affectionate and gets along with everyone.
Gets Along with Dogs: Yes
Gets Along with People: Yes
Housebroken/Crate Trained: Yes and Yes.
Departure date: November 2, 2018

History
Highland and a cat were abandoned in an apartment by the apartment's tenant when she moved out. The landlord found them when he came to clean-up sometime afterward. He called Newport Animal Control. No one knows for sure what happened to his leg, but I suspect he was kicked.
Known Issues & Progress
Behaviorally, he has no issues: he's GREAT. We took him to Cedarwood Veterinary to have him examined and X-rayed to assess his right rear leg and see what, if anything, could be done to restore it. They said it had been broken some time ago, was not addressed and healed with the leg bone rotated laterally. It causes him no pain and he has learned to function with his disability. They recommend AGAINST surgery. He just needs exercise and love.
Commands he knows: Comes when called, "sit", "shake", "in your room", "go inside", "go outside", "hush".
He plays fetch well. Not fond of tug.
He is non-destructive of his bedding. Gets barky when separated from his people.
He has earned his full-fledged House Dog badge. We let him run in the house when we're here. He sleeps on a dog bed in the bedroom with the rest of us at night. He gets up with me in the morning, goes outside to pee, then settles down in the den with me while I study. The only time I crate him is when I leave the house and he stays behind. And he gets fed in a crate. All but three of the dogs get fed in a crate just to keep them out of each others bowls. My three all-star house dogs have moved beyond that misbehavior. They eat around the dining table (on the floor, but around the table). I'll try him on free-range dining before he leaves and update this note.
Medical
DA2PP: 10/05/2018.(N.A.C.)
Bordatella: 10/05/18 (N.A.C.)
Wormed: Oct 5, 6, 7 2018, Panacur: 10 ml (PMFC)
Rabies: Oct 28, 2018 by Claws & Paws
Spay/Neuter: Oct 28, 2018 by Claws & Paws
Flea/Tick preventative: Oct 5, Advantage
Heartworm preventative: Oct 30, 2018: Nu Heart
Heartworm Test: Oct 28, 2018. Test was NEGATIVE
Gallery
In roughly chronological order, newest at the bottom. Click the thumbnails to enlarge. Some pictures are linked to Doggy Tales and videos about Highland, click those to open the related story or video.
Highland and Josie do gentle play (Video)

Highland says, "and this is all I need." (Story)

Highland responds to the "COME" command (video)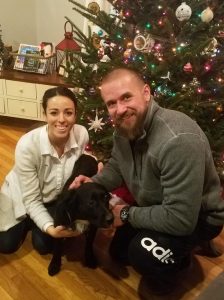 | | |
| --- | --- |
| If you enjoy our pupdates, Doggy Tales, and educational articles consider subscribing for notices when new pieces are posted. It's painless and you can unsubscribe any time you want. Your e-mail address is used ONLY to deliver these notices. | |