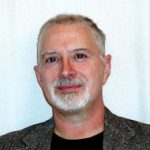 Today Cheyanne went in for her final step in the medication for heart worm treatment: the second injection deep into her back muscles. The vet tech tells me that these injections are not very painful, so the dog is not sedated for each procedure, but the aftermath is. Cheyanne is in enough pain now that they sent some medication for that as well. Not all dogs require that, but Cheyanne is "delicate". She's more sensitive to cold than the rest as well.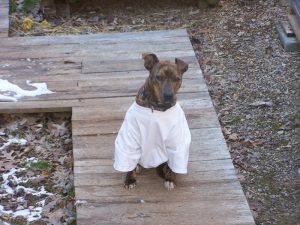 It's cold today: 12° this morning, 22° as a high. After spending the day in the intensive care room at the shelter for her procedure and observation, I put her in an old Tee shirt when she came home and needed some leg stretching time. She seemed to appreciate that. She appreciated getting the breakfast she was deprived of this morning even more.
She seemed dazed and disoriented. She spent a long time just sitting on the boardwalk. It is not at all like her to be so still. When I called her to come inside where it's warm, she turned and went to her dog house instead. "It's too cold for that sweetie." I had to carry her inside. I put an extra blanket in her crate for added cushioning on her sore little body. She curled up and went to sleep.
Marie and I decided it would be best to put Cheyanne into intensive care for a couple of days to be sure she was OK. Blondie and Cochise agreed and gave permission for her to sleep in their house for a couple of nights.
The Intensive Care Ward
I fixed up our big transport box with her blankets from the crate and Marie and I brought her home. She settled right in and enjoyed being part of the group.
Normally Cheyanne is pretty energetic and very affectionate. She loves everyone and wants to snuggle and be petted. So for her to just curl up in the box and sit calmly told us how poorly she was feeling. That and the fact that she keeps her tail tucked tightly under her all the time.
Fortunately, Cheyanne, Blondie and Cochise all get along great, so no territorial disputes arose. In fact, Blondie was out on her tether when we brought Cheyanne over and Blondie greeted her with a warm Aarrrrooooooo and jubilantly escorted her up the steps to the porch. Cochise was in by the fire, but he met her at the door. He's more stoic about emotional displays, but was happy to see her, though he feigned disinterest.
Cheyanne had her breakfast at 3:30 this afternoon, her dinner at 5:30 and another handful of kibbles when Cochise, Blondie, Marie and I had our dinner around 7:00. Cheyanne has a FULL belly tonight!
We let her out in the kitchen to get a drink and stretch a bit. I took advantage of her calm state to trim her nails while Marie tossed a big towel into the drier. Blondie and Cochise love curling up for the night on a hot blanket. Cheyanne did too.
Before bed time Marie took Cheyanne out front for a potty break. Cheyanne wandered around the corner of the house, as far as the tether would allow, and stood gazing back toward the gate to the dog pens, play yard and workshop. Marie could tell she was thinking, "It's been a fun party but I'm really tired, I need to go home now."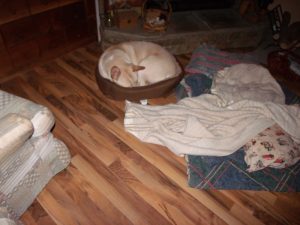 When we go to bed, Blondie always comes easily to curl up in her snuggle bed at the foot of our bed. Cochise requires bribery in the form of a hot blanket. Without that he will not give up his warm spot in front of the fireplace. Tonight, neither one would join us. During the night, once the embers in the fireplace burned out, Cochise padded back and curled up in a snuggle bed. Nurse Blondie, however, chose to remain curled up in a tight ball in a too-small snuggle bed to be close to Cheyanne all night long. She's a good friend.
We feel better having Cheyanne here where we can respond quickly should she have any trouble. We don't expect any, but we think she will feel more comfortable here with the rest of us too. Once the pain has subsided she will be fine bunking in with Hercules again. Poor Herc was quite upset when we took Cheyanne away AGAIN! They get along very well too. Its a happy little herd we have this time around. Not a trouble-maker in the lot.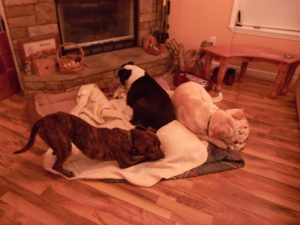 We didn't hear a peep out of Cheyanne all night long. Nurse Blondie took Cheyanne out front for a successful potty break in the morning, then everyone got chew-sticks. Cheyanne was feeling much better! I took her back to have breakfast with Hercules when it got light enough to see.
Hercules was glad to see her and they both settled in after breakfast. I gave Cheyanne another pain pill just to help her rest today. That should be the last she will need.
Later, Blondie, Cochise and I all came over to spend the day with Cheyanne and Hercules. It's too cold to do yard work today, and I do all my writing on a laptop computer, so I can take that with me wherever I need to go.
Cheyanne will need to remain calm and be kept from active play for the next two weeks, then ease back into regular life over another two weeks. Then she will be healthy again and ready for adoption.
UPDATE
After seeing Cheyanne's antics on Facebook, Joan in Jersey decided she had to adopt her. When Cheyanne left here, she was headed straight to a loving forever home. That made our parting so much easier. Thank you Joan!
| | |
| --- | --- |
| If you enjoy our updates, Doggy Tales, and educational articles consider subscribing for notices when new pieces are posted. It's painless and you can unsubscribe any time you want. Your e-mail address is used ONLY to deliver these notices. | |