Mya is a sweet, affectionate girl.  She is well behaved, in a cattle-dog sort of way.
Last updated: Aug 17, 2018
Base Info: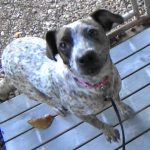 Arrival date: Aug. 4th, 2018
Breed: Cattle Dog
Sex: Female
Age: Youth, Adult, Mature, Senior
Weight: 45 pounds
Spay/Neutered: Yes
General Health: Excellent
Temperament: Energetically affectionate
Gets Along with Dogs: Yes
Gets Along with People: Yes (including children)
Housebroken/Crate Trained: Yes
Known Issues & Progress
While Mya was staying with another foster family, one of their dogs started attacking Mya.  To avoid injury and inciting similar behavior in her, she was moved here.  My job is to be sure she hasn't been traumatized and keep her safe until transport.
Mya is a cattle dog, so she jumps and nips.  I will work at teaching her to restrain these impulses.  Her former foster family included at least one child: a boy 8-10 years old, who obviously adored Mya.
Commands she knows:
Come
Sit
Sit Pretty
In Your Room
Gallery
In roughly chronological order, newest at the bottom.  Click the thumbnails to enlarge.  Some pictures are linked to Doggy Tales about Mya, click those to open the related story or video.
Mya Rides Home (video)

Mya doing some serious Sunday Sniffing (vid)

Special treat on Sunday evening! (vid)

On Monday Mya was ready to PLAY! (vid)

| | | |
| --- | --- | --- |
| Mya can "Sit Pretty" | Sometimes she cheats | Enjoying her Coolaroo |

.

Mya likes high energy play – Buddy does not.

So Mya decides to accommodate Buddy by just hanging with him and strolling.

.