This little fella may have once been well cared for, but that changed and Rambo required intervention by Animal Control to abate an Animal Cruelty situation.
Last Updated: May 18, 2021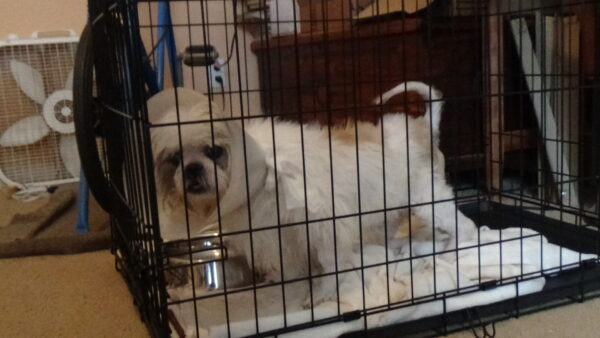 Base Info
Arrival date: Feb 2, 2021
Breed: Shih Tzu
Sex: Male
Age: Senior
Birthdate: July 3, 2007
Weight: 14 pounds on Feb 2
Neutered: Yes
General Health: Fair
Temperament: Mild, calm, friendly, bossy
SAFER Test performed: Yes – Passed
Departure date: May 18, 2021
---
History
Newport Animal Control was called in due to a reported case of neglect/cruelty. They found Little Rambo wandering around the house with his fur so matted they could not find his eyes or feet. He had feces caked in his fur and had a tumor the size of an orange hanging off his anus. And he STUNK! The owner agreed to surrender Rambo rather than facing a cruelty charge. Animal Control took Rambo to Cedarwood Veterinary Hospital.
C.V.H. staffer Amy Huff volunteered 4 hours of her own time to work with the A.C.O. to shave out the mats and get him ready for an examination. Dr. Sandra Manes removed the tumor and set up his wound care schedule.
Piney Mountain Foster stepped in to get Rambo out of the shelter environment and take over his medical care.
---
Adoption Information
---
Progress Summary
Detailed notes are found below.
Relational Behavior
Relates well to other dogs: Yes
Can eat food/treats near other dogs: Yes
Preferred style of play: He wanders
Is affectionate: Yes
Is good with:
. Men: Yes
. Women: Yes
. Children: Yes
. Cats: Yes
Jumps up on people: No
Mouths: No
Walks well on a leash: Yes
Commands
Comes when called: Yes with Stacey, No with Dennis
Sits on command: Not yet
Down / Off: Not yet
Shake / Paw: Not yet
Kennels on command: N/A
---
House Dog Training
Willingly enters his crate: Not yet
Is calm/quiet while in crate: He was at first, now NO.
Understands going outside to potty: Yes, but if its raining or really cold he will not go willingly.
Alerts me of need to go outside: Sometimes
Is destructive of bedding and/or toys: No
Engages in kitchen counter cruising: Ha, that's funny!
Stays off people furniture: He can't get up there by himself, but we (foster parents) built him some stairs so he can get up if he wants to.
---
Diet
He was accustomed to eating table scraps. We've tried various wet and dry foods. He will eat one for a while then wants something else. You'd think he is a cat! His foster home has him free-feeding on Purina Pro Small Bites.
---
Gallery
Progress Updates
Feb 2
Rambo's ride here and first day have been uneventful. The plan is for this little fella to reside in a foster home, but he will stay here until that's all arranged.
Rambo has a fairly involved wound care regimen, but he tolerates it well.
He did fine in his crate. I took him outside for a potty run every 3 hours. 8:30 rolled around and I included Rambo in our bed time potty run routine, then I went to sit in bed and read. Rambo was having none of that, he started barking.
Short version: I went to sit with him in the den. Not good enough, he wanted OUT of the crate. Eventually I caved in. He came and laid across my legs to get pets for a while, then began touring the dog beds in the room. Around midnight he settled on his favorite. I took the other one (the smaller one of course) and that's where we spent the night.
---
Feb 3
Rambo had a good day with me here today. He spent some time wandering the yard with the other house dogs. Everyone was quite civil. Dennis and Stacy came by on their way home from work to pick up Rambo and his gear. I will post updates from them as I get the information.
What lies ahead? Once Rambo is healed up from his tumor removal he will need a blood panel done to test for cancer and organ failure, and a heart worm test, and if all that is good he will need to be neutered. When that's healed up we'll get the poor feller a good grooming so he looks nice. He's pretty patchy-looking right now because of the neglect he suffered and subsequent matted fur removal.
---
Feb 5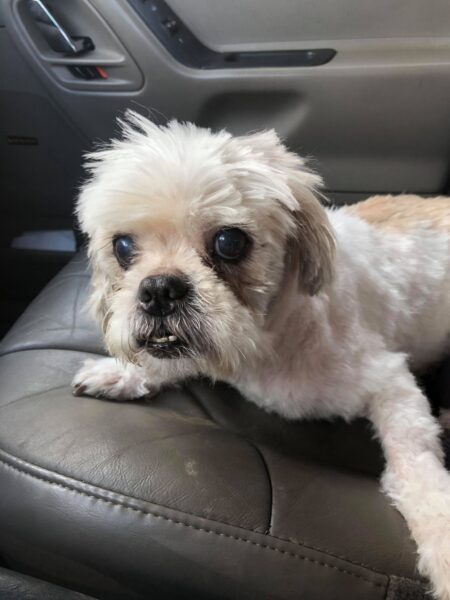 Rambo's foster mom, Stacey, had Rambo groomed. He looks better! She says, "I think he feels better too. Most definitely smells better. I pulled into A&W to get a root beer float. You should have seen the happy dance he did. He knew where we were! I thought maybe he would eat a cheeseburger, but he didn't. Picky little thing."
---
Feb 8
Rambo went to Cedarwood for a rabies vaccination, a complete blood panel, and a surgical follow-up exam. The bloodwork looks good except for being anemic. He has a grade 3 heart murmur. He has a couple more nodules coming up on his butt. We will do a needle aspirate of these for biopsy to see if these are malignant or benign, and go from there.
---
Mar. 8
It has been a month since my last check-in. Rambo is doing well with Dennis and Stacey and they are quite fond of him. He gets along great with their whole pack, including the cats. He seeks out one kitten in particular when he wants to snuggle for a nap, and his feelings toward another cat are, lets say, more of an amorous nature. He's confused, obviously!
When outdoors he will ramble off a ways, but when he gets beyond his comfort zone he just stops and waits for someone to retrieve him. Being a senior dog, his eyesight is weak. He can navigate well enough, but not see distance. Rambo is due to be neutered next week. Once that is done he can go up for adoption.
---
April 11
Rambo has been groomed a couple of times now and it looking great. His foster parents say "He is such a hoot!" Although he can't see really well he's always up for an adventure.
---
Want to help
save lives? Please
PMFC is a 501(c)(3) Charity
You can also support us at no cost to you with Amazon Smile
If you enjoy our pupdates, Doggy Tales, and educational articles consider subscribing for notices when new pieces are posted. It's painless and you can unsubscribe any time you want. Your e-mail address is used ONLY to deliver these notices. That's a promise!