Here we are about to exit 2018 and start a new year, so I thought I'd recap Rebel's progress here at Piney Mountain Foster Care.
You may recall that when Rebel arrived here, he was critically underweight.  With the help of probiotics and special kibble from Cedarwood Veterinary Hospital, his guts have healed up and he is eating regularly.  I am still over-feeding him to help him gain weight, but he is filling out and his energy level is way up.  More like a Husky ought to be.
My main issue with this boy has been is need to go outside to potty every hour and a half to two hours.  This, combined with his need for companionship, prompted me to start sleeping in the living room near his crate.  That keeps him comforted and quiet.  Over the past two weeks he has evolved a new sleeping pattern.  I put Sable and Hudson in their crates in the bunkhouse and bring Rebel in our home about 9:00 pm.  He will go back out to the yard once or twice before settling in to sleep between 10:00 and 11:00.  For the past few nights, Rebel slept through the night and didn't wake me until around 5:30 AM.
Josephine does tend to wake me about 2:00 am.  Rebel watches as I wait on her to come back, but stays bedded down and goes back to sleep once the door is secured again.  Actually, it is often the Beagles who wake me at 5:30, but Rebel is ready for a yard run once the Beagles have returned.  By the time he's back I'm wide awake so I might as well start my day.
Rebel and I move into the den.  No crate here, I use a tether to keep him from wandering off while I'm concentrating on my bible studies.  He has been well behaved.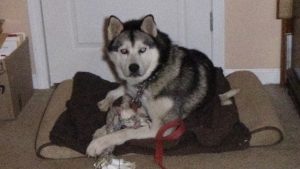 Blondie has been sleeping in the den at night, and she's still there when we arrive in the morning.  I bring Rebel's bedding from his crate into the den, and provide him with a couple of chew toys.  A big ropey bone is his favorite.  He snoozes or amuses himself with the toys until 7:30 when it's time to get kibbles dished up and the outside dogs to their kennels for breakfast and AM potty runs.  That includes Rebel.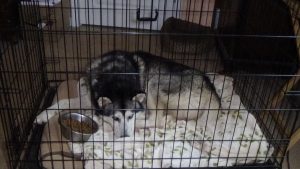 Rebel has become accepting of his crate, and willingly walks inside when I ask him (and offer him a bribe).  He has plenty of cushioning in there and a bowl of water.  I was leaving a bowl of kibble to snack on, but lately he's not interested in that at night.
As he has become stronger, he is a bit more assertive, especially with Buddy Beagle, the only male house dog.  I'm working with him on that, and he is scheduled for neutering January 4th.  He is NOT scheduled to transport on the Jan. 18th, so he will be with us at least another month.  I'll use that time to continue teaching him Social Graces.
He is great with people.  He has become affectionate and playful with me.  I am working on teaching him not to mouth when we play.  He gets it, but forgets.  When I remind him, you can see it in his eyes, "Oh, yeah — I forgot.  Sorry." then invites me to play some more and does well for a bit.  I suppose it's like a soccer player having to learn to move a ball around without using their hands.  It's what we're designed to do, but mustn't.  He'll learn. He's doing fine.
Go to Rebel's Summary Page
| | |
| --- | --- |
| If you enjoy our updates, Doggy Tales, and educational articles consider subscribing for notices when new pieces are posted. It's painless and you can unsubscribe any time you want. Your e-mail address is used ONLY to deliver these notices. | |