This is a foster dog diary post about Spartacus (whom we affectionately refer to as Snoopicus). New information will be added to the end of this post so all info on this dog is kept in one place and in chronological order. If you subscribe for updates, a short note will be sent when updates are posted. If you don't subscribe, check back periodically to see what's been added.

Last Updated: Dec. 10

Spartacus is a small, affectionate full-blooded Beagle.  Initial impressions are good as far as his relating to us and to the other doggos housed here.
Base Info: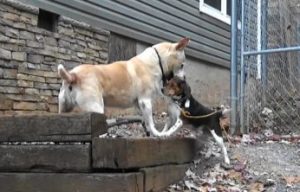 Arrival date: Nov. 18, 2019
Breed: Beagle
Sex: Male
Age: Puppy, Young Adult, Mature, Senior
Weight: 23 Pounds
Neutered: Yes
General Health: Excellent, Good, Fair, Poor
Temperament: Bright, gentle, loves attention.  Extremely clever.
Gets Along with: People, Dogs, (Cats unknown)
Crate Trained: Yes
Housebroken: Yes

Departure date: December 6th, 2019, headed for New Hampshire
History
Picked up as a stray by Newport Animal Control on November 5th and not claimed, Spartacus was put up for adoption.  Animal Rescue Network of New England (ARNNE) asked me to foster him for them while he gets neutered, rabies shot, HW test, etc.
Progress Summary:
Detailed notes on this foster dog's progress are posted below the summary.
Dog to Dog Behavior

Relates well to other dogs: Yes
Can eat food/treats near other dogs: Yes
Preferred style of play:  So far he has not engaged the others in play.  Likes to go on patrol with them.


Dog to People Behavior

Is affectionate: Yes
Is good with:
. Men: Yes
. Women: Yes
. Children: Unknown but expected to be very good with kids.
Jumps up on people: Yeeees, but he's so small and sweet about it he does no damage.
Mouths: No
Walks well on a leash: Yes

House Dog Training

Willingly enters his crate: Yes, with bribe
Is calm/quiet while in crate: Most of the time.
Understands going outside to potty: Yes

Alerts me of need to go outside: Yes

Is destructive of bedding and/or toys: No

Refrains from kitchen counter cruising: Yes (couldn't reach them if he tried)

Stays off people furniture: NO

---

Commands:

Comes when called: Depends on what's in it for him.
Sits on command: No
Down / Off: Sometimes
Shake / Paw: No
Kennels on command: Yes

Spartacus's Medical

DA2PP: 11/13/2019 (NAC)
. Booster: 11/27/2019 (PMFC)
Bordatella: 11/13/2019 (NAC)
Wormed: Dates | Product | Dose | By
.  11/13/2019 Pyrantel Pamoate, 2.5cc NAC
Rabies: 11/26/2019 (Cedarwood)
Neuter: 11/26/2019 (Cedarwood)
Heartworm Test: 11/26/2019 , Negative (Cedarwood)

Flea/Tick preventative:
. date, product, dose
Heartworm preventative:
. 11/29/2019, Ivermectin solution, .03 ml
NOTES:
.
.

Diet

Sparty is a picky eater.  Does not care for cheese, does like peanut butter.
Now eating 4health Salmon & Potato kibble straight, and enjoying it.
3/4 cup AM, 3/4 cup PM
Prefers to drink water out of a stainless steel bowl, does not like plastic containers.
LOVES our Peanut Butter Dog Treats
Gallery
Progress Updates
In chronological order, newest at the bottom. Some pictures are linked to a more detailed Doggy Tale about that update, click those to open the related story.
November 19
Spartacus rode home from NAC well.  He sang his song of Beagle Delight all the way.  Introductions to the rest of the Piney Mountain Gang went smoothly.  His only concern during play time is marking everything he sees, but that will start to diminish once we have his nuts nipped.  Sparty likes to snuggle and is gentle about it.
At bed time I took both of the kennel boys inside the bunkhouse to be crated for the night.  Spartacus was okay with that as long as I was in the room with them, but cried when I left.  He settled down eventually and hid crate blanket was clean and dry this morning.
He prefers canned food to kibble.  Meaning that if I give him a dish of kibble he dumps it over and kicks the kibble all around his kennel.  "Okay, okay, I get the message!"  I gave him canned food this morning and he ate that.
Nov. 22
Spartacus has been improving in his behavior: less baying and crying, less jumping up on me to get attention as soon as I enter his kennel as he has been getting frequent doses of attention and play time.  He is quite lovey and stays quiet as long as his people aren't ignoring him.
He has been allowed to play with Blondie, Callie, and Buddy Beagle.  The two big girls were a passing fancy: he sniffed each of them thoroughly and moved off to engage in the very serious business of marking every tree, bush, and fence post in the yard.  That will decrease after neutering
With Buddy it was different.  Buddy isn't much bigger than Sparty and he's a Beagle.  Sparty followed Buddy all around but never really engaged him in play.  Hero worship, maybe.
Spartacus has done okay at keeping his room clean.  He has not torn up his blankets.  The first day he left a poop or two and a puddle in there.  But once he realized he was going to be let out every couple of hours, he stopped that and has kept his room clean.
Sparty is exceptionally sweet, gentle, and an avid snuggler.
Nov. 26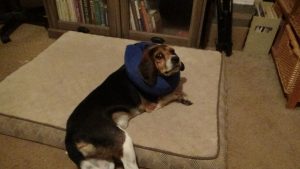 Today Spartacus was neutered, microchipped, got his rabies shot, and examined for Health Certification so he can travel across state lines.  All parasite testing turned out negative.  He came through his surgery well.  He is quite uncomfortable this evening, but he came home with Carprophen so I'll give him a dose after his potty run.
He will be staying inside the house for at least the next week so I can keep an eye on him.  Then, if he and the house dogs all get along well, he'll probably just stay in with us until transport on Dec. 6th.
Nov 27th
Sparty and I had kind of a rough night last night.  Neither a cone nor a Kong Cloud in his size is sufficient to keep him from licking at his incision.  So I put a couple of rectangular dog beds together, Marie brought my bed pillow and a blanket and Spartacus and I camped on the den floor.  He was happy to snuggle in beside me and I could tell if he tried to curl up to get at his privates and prevent it.  Right after he got his pain meds we both got a few hours of sleep.  Once those wore off he became fidgety and needed more supervision.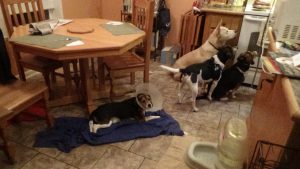 In the morning the other dogs accepted his running loose and he made himself at home while Marie fixed the people breakfast and I fed doggos inside and outside.
Spartacus had eaten last night's dinner earlier in the morning as breakfast.  I gave him just a few more kibbles so  he wouldn't feel deprived, but he ignored them, eating just the peanut butter clump that hid his morning pill.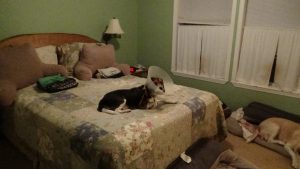 When Marie went to the bedroom to get dressed for work, Sparty accompanied her and laid claim to the People bed as his.
Uhhh, no.  I don't think so, lil feller.  You are cute and all, but that causes issues with the other house dogs.  Let's just keep things peaceful while you're here, okay?
Sparty's in-house behavior has, so far, been excellent.  He has not been baying or crying and he has not challenged the other dogs in any way.
Nov. 29
Nov. 30
We have a "No dogs on the sofa" rule in our house. We have one sofa, one easy chair, and our bed. The dogs have like 12 pieces of dog furniture for their use. We don't think it's unreasonable to be able to sit down when we want to. Spartacus has challenged that rule several times. I always lift him down gently and place him on a vacant dog bed explaining, "That's for the people to sit on."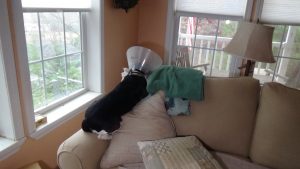 Today I entered the living room and found this. I went over to pick him up and move him, but he glared at me around his cone and said, "You never sit on this part. You can still sit on that part. There's no reason I can't sit here."
"Yeah, but … ummm … you can't just … I mean, it's not that …"
Hmmm … he had me there. So I left him sitting where he was.
I wonder what law school he's going to attend when he gets to New Hampshire.
Dec. 3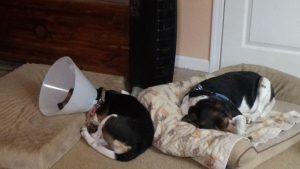 We removed Sparty's cone on Sunday.  When I looked at Spartacus's incision last night it looked fine.  When we got to Cedarwood this morning for his follow-up look-see, part of it had opened up.  Chad cleaned it and glued it shut.  There is no infection yet, but I am to watch it and if it starts showing signs of infection we're to go back and get some antibiotics that he can take with him.  He's also in a cone again.
Yesterday, Having conquered the sofa, Spartacus chose to invade the dining room.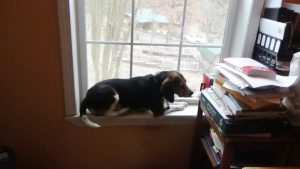 He's also found some new places to lie in the sun.
Dec. 7
We got to the rendezvous point in Bulls Gap okay Friday night.  Spartacus did not enjoy the ride: squirming and trying to climb onto the dashboard most of the way.  Once we got into I-81, he went in the back and snoozed.
We arrived early because the transport service said we should: in case they were running fast.  They have a phone number we can call to get the expected arrival times at each stop.  That said they were running late by 20 minutes.  So I helped a group of fellas whose car had died and needed a jump start.
10:20 came and went and the phone still said they'd be there at 10:20.
At 10:45 we got a call from Amanda (a name I know because Christine (my contact at ARNNE) mentioned her as being a coordinator for HEARTS LLC) who said she was there at the truck stop to pick up Spartacus so we could go on home.  The transport had suffered a flat tire and were going to be delayed a while.  I told her where we were and what we were driving and she found us.  Marie said, "I think we should check her credentials, she may be some kind of Beagle thief."
As it turned out, the transport was broken down at the I-80/I-40 split and we were going to go right past it to get home, we could have dropped him off to them there.  I wondered if Amanda always drove out in front of the transport like that, then we remembered that HEARTS are HQ'd in Greenville, so Bulls Gap is just a short ways from there.  It was fortuitous that they had a blow out there and not at Lebanon TN, the other end of the state.
Dec. 8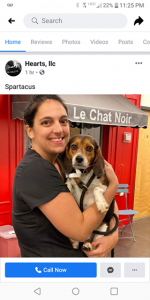 I got word last night (Saturday) that Spartacus has arrived safely at the quarantine center in NH.  He will spend a couple of days there, then be released to his foster mom while his adoption is processed.  His foster mom and adopter may be the same person.  ARNNE likes doing foster-to-adopt as a trial run before the adoption is formalized.  I like that system too because when it works out it means less stress on the dog by not being passed through another home on his way to the forever home.
I'll be watching for the adoption photo!
Dec 10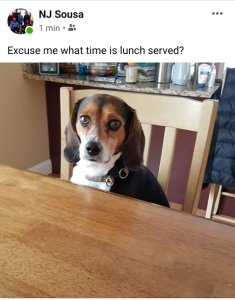 Spartacus is out of quarantine, making himself at home in a short-term foster home, and will be going to his adoptive home later today.  ARNNE says, of his adopters, "He's going to his adoptive home today in Dracut, MA. His adopters are twin sisters in their late 50s who are retired. They have a fenced yard and an impeccable home."  He ought to be very happy there!

Want to help
save lives?

PMFC is a 501(c)(3) Charity

If you enjoy our pupdates, Doggy Tales, and educational articles consider subscribing for notices when new pieces are posted. It's painless and you can unsubscribe any time you want. Your e-mail address is used ONLY to deliver these notices. That's a promise!