Friday the 13th may be unlucky to some, but for Cheyan this was one wonderfully lucky day:
she got sprung from Animal Control, passed her blood tests, and got to meet a couple more Beagles!

Last Updated: Feb 13, 2020

Base Info:
Arrival date: Dec. 13, 2019
Breed: Beagle
Sex: Female
Age: Puppy, Young Adult, Mature, Senior
Weight: 31.2 Pounds currently
Spayed/Neutered: Yes
General Health: Excellent, Good, Fair, Poor
Temperament: A bit timid, but very sweet and friendly.
Departure date: January 17, headed for New Hampshire.
History
Cheyan was an owner surrender.  Her Mom lived in an apartment with no yard, and just let Cheyan run loose.  Neighbors were complaining and calling Animal Control.  When they picked up Cheyan, Mom said, "Just keep her."  When she came to Animal Control she was terrified: all eyeballs and tremble.  The staff there worked with her and she has calmed down, but was still skittish with strangers.
Cheyan's Progress Summary:
Detailed notes on this foster dog's progress are posted below the summary.
Dog to Dog Behavior

Relates well to other dogs: Yes
Can eat food/treats near other dogs: Yes
Preferred style of play: She likes to run/chase and wrestling.

Dog to People Behavior

Is affectionate: Yes
Is good with:
. Men: Is scared of large men, does fine with me.
. Women: Yes
. Children: Yes
. Cats: Yes
Jumps up on people: Yes, but is very gentle, seeking petting.  Still, I'm working on that.
Mouths: No
Walks well on a leash: Yes

House Dog Training

Willingly enters her crate: Yes, with a bribe.
Is calm/quiet while in crate: Yes.  If left alone she will bark for a bit, but settles down.
Understands going outside to potty: Yes

Alerts me of need to go outside: Yes: goes to the door.

Is destructive of bedding and/or toys: No

Refrains from kitchen counter cruising: No.  She knows it's bad, but … she's a beagle.

Stays off people furniture: Mostly.

---

Commands:

Comes when called: Usually
Sits on command: Yes
Down / Off: Yes
Shake / Paw: No
Kennels on command: Yes

Medical

DA2PP: 12/07/2019 (NAC)
. Booster: 12/21/2019 (PMFC)
Bordatella: 12/07/2019 (NAC)
Wormed: Dates | Product | Dose | By
.   12/07/2019 Pyrantel Pamoate 2.0 ml (NAC)
Rabies: 12/26/2019 (Cedarwoood)
Spay/Neuter: 12/26/2019 (Cedarwoood)
Heartworm Test: 12/13/2019, Negative (Cedarwood)

Flea/Tick preventative:
. 12/29/2019, Credelio, 25-50 lbs
Heartworm preventative:
. 12/13/2019, Ivermectin Solution, 0.3 ml
. 01/13/2020 Heartgard, 26-50 lb
NOTES:
.  She has been underweight because she's a picky eater.  It is suspected she existed on table scraps before.  21.4 lbs at NAC intake.
.

Diet

4Health Salmon & Potato recipe, 1¼ cups AM, 1 cup PM.  She is eating this well now.
Loves our peanut butter treats as rewards.
Gallery
In chronological order, newest at the bottom. Some pictures are linked to a more detailed Doggy Tale about that update, click those to open the related story.
Progress Updates
Notes on Cheyan's progress will be entered below: newest on the bottom.
Dec 13
When I first met Cheyan, she was still quite scared: choosing to stay at the back of her kennel and tremble.  Today she did better.  It did not take nearly as long as I thought it might to win her trust enough to fit her into a harness.  I was warned that she's a runner.  If she gets loose, she will turn into a cinnamon colored streak that is exceptionally hard to catch again.  A harness is more secure, and easier on her neck if she decides to start jerking the leash.  She did not.  In fact she walked well in the harness.
I took her to Cedarwood Veterinary Hospital for her Heartworm test.  While she was with me in the waiting room, she sat calmly between my knees.  When folks came to say "Hi" she responded well to most.  There was one fellow — large side of average for a man — who came in with a cat, stopped to pet Cheyan but she dived under the chairs.  As we were leaving, another large fellow met us outside and, although he was friendly and gentle, Cheyan was terrified of him.   She did not react this way to the women, and she was wary of me at first, but got past that quickly.  I suspect this is because I'm small, for a man, and I got down on the floor with her quickly to ease her tensions.
Cheyan has had a potty run with Buddy Beagle.  They got along famously!  When I went into her kennel to put on her walking harness, she stood up and slipped her head through the neck hole — she really wanted to go for a walk.  Smart girl!
Dec. 23
Cheyan has given me no trouble at all.  She's a sweet, loving little gal who adores being petted, enjoys playing with other dogs, and runs like the wind.  She's good at keep-away, too.  Until she will reliably come when called, I keep a "handle" on her during yard play time.  This is a 12 to15 foot length of rope with a piston clip fastened to one end.  I attach this to the collar or harness of dogs in training so I can get hold of them by grabbing or stepping on the rope as they tease me by flashing by, just out of reach.
She walks well on a leash, and looks forward to going inside at night.  She sleeps in a crate, has not torn up her blankets and is quiet once she gets past the initial, "don't go away" phase right after I leave the room.
Dec 26
I took Cheyan to Cedarwood Veterinary Hospital this morning for her spay surgery.  She rode inside the extended-cab with me and did well.  I've set up a crate for her in the house where she will be sleeping until she transports north in January.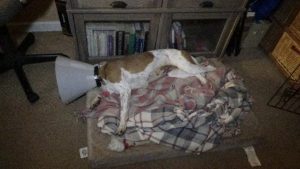 After her surgery, Cheyan was in a good deal of pain, but refused to take her Tramadol (for said pain).  Eventually I had to poke it down her throat, which she made more traumatic than it needed to be.
The only thing she has eaten in the last 24 hours got vomited up in the truck on the way home from the veterinarian, so the pain meds hit hard and fast on an empty stomach.  Hopefully she will feel like eating in the morning after a good night's rest.
Dec 28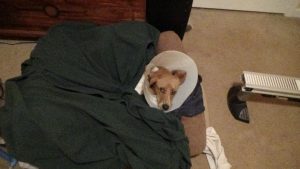 Cheyan went over 30 hours without eating or drinking anything.  Everything she consumed, even water, came right back up.  I took her to Cedarwood and Dr. Courtney gave her an IV injection of something to fight the nausea.  That worked.  She finally settled in to sleep and when she awoke was able to keep down a little water.  She wasn't interested in the food I offered her.  So we tried some shredded mozzarella cheese and bacon bits.  That interested her!  So I rolled out my secret weapon.  Something I keep on hand to use in giving medications to dogs who won't take pills hidden in cheese, peanut butter, or hot dog: Cat food!  The tins of cat food with small chunks of meat in gravy.  Dogs go nuts for that stuff and its got less salt and fat than cheese and bacon – which is okay as a kick-starter but not a meal.  I gave her half of a can of the canned cat food and she licked the bowl clean!  I left her a small bowl of kibble to nibble on over night, and she has, but don't want to over-do on her first meal after being empty for so long.
Oh, and she is not as housebroken as I had thought.  So I set up a BIG crate for her to rest in.
Jan 5
Cheyan has recovered well from her surgery.  She is eating regularly and eagerly.  She's still a bit thin, but not so bony now that she's been eating.  She does run a lot so she burns up a lot of the calories she takes in.
Cheyan still gets along with everyone.  She is better at the house breaking thing but I have to keep an eye on her.  When she needs to go out she goes to the door.  If I miss that, she will pee on the floor.  She has never left a BM in the house.  As long as I let her out often she's fine.
She can eat free-range with the other dogs.  And she plays well with everyone.  She is not intimidating to anyone (other than having weaponized her cone (LOL)) but is the only one who can keep up with Bandit.
Jan 14
Cheyan hanging with her friends.
Jan 15
Cheyan has been doing really well in her house-breaking: no accidents in quite a while now, and she has started coming to get me if I don't see her standing at the door.  She's also ready to dispense with the crate for sleeping at night.
She pays attention when she gets rowdy in the house and I teller to settle down.  And she is doing much better at going outside and coming back.  Where she would go out and stay out for an hour or more, she now comes back more quickly.  This is good when we're doing potty runs and another shift needs to go out.
I don't like letting all 6 dogs go out unsupervised at once — too much chance of one aggravating another, who grumps, which could start an argument, which will turn into a full-on dog fight as everyone piles in.  Not good!  I avoid setting that up.
Jan 18
We sent Cheyan off to A.R.N.N.E. yesterday.  In her last week here she has become quite civilized.
| | |
| --- | --- |
| Cheyan developed this as her "nest". Her favorite bed adorned with her favorite toys arranged so each is in easy reach. Any time I didn't see her, this is where she would be. | But when the need arose, Cheyan could share her special space with others. |
| | | |
| --- | --- | --- |
| Cheyan rode well on our little road trip to meet her ride North. | | Cheyan's paperwork was found to be in order and a stateroom assigned for the journey. |
Our part in Cheyan's rescue story has come to an end.  But the rest of her life, a happier life, is about to begin.  Happy tails, Little Miss!
Feb 13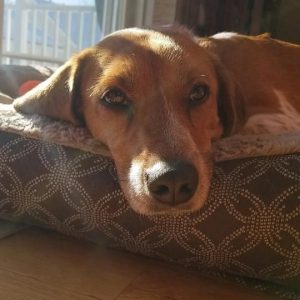 Her adoption is complete and her NH foster mom writes, "Cheyan takes the last step to her forever home tomorrow. Cheyan we'll miss you and we'll never forget you. Stay goofy and adorable. Have a wonderful life."
Want to help
save lives?

PMFC is a 501(c)(3) Charity

If you enjoy our pupdates, Doggy Tales, and educational articles consider subscribing for notices when new pieces are posted. It's painless and you can unsubscribe any time you want. Your e-mail address is used ONLY to deliver these notices. That's a double-dog promise!

You can also support us with Amazon Smile