This is a foster dog diary post about Martin. New information will be added to the end of this post so all info on this dog is kept in one place and in chronological order. If you subscribe for updates, a short note will be sent when updates are posted. If you don't subscribe, check back periodically to see what's been added.

Last Updated: August 26, 2019

This sweet, affectionate little fellow looks like a puppy, but he's not.  He is almost 2 years old, thus fully grown, and a really good boy.
Base Info: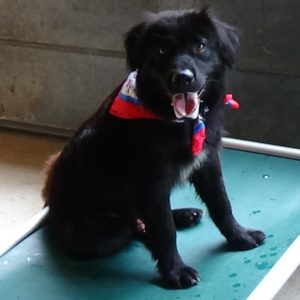 Arrival date: Aug. 23
Breed: Golden Retriever / Black Lab / Husky
Sex: Male
Age: Puppy, Young Adult, Mature, Senior
Weight: @ 50 Pounds
Spay/Neutered: Scheduled for Sept 4th
General Health: Excellent, Good, Fair, Poor
Temperament: Gentle, sweet, calm, well-behaved: PERFECT!
Gets Along with Dogs: Yes
Gets Along with Cats: Unknown
Gets Along with People: Yes
Gets Along with Children: Unknown
Housebroken/Crate Trained: No
Departure date: August 26th
History
This precious boy was removed from an abusive environment, along with several other dogs.  He was living in a small pen on someone's porch.  But you would not know it by his behavior, he is as loving and eager to please and any dog from a perfect home.
Progress Summary:
Detailed notes on this foster dog's progress are posted below the summary.
Dog to Dog Behavior

Relates well to other dogs: Yes
Can eat food/treats near other dogs
Yes

Dog to People Behavior

Is affectionate: Yes (gives great hugs)

Is good with:
. Men: Yes
. Women: Yes
. Children: Yes
Jumps up on people: Not really

Mouths: No
Walks well on a leash: Yes

House Dog Training

Willingly enters his crate: Yes
Is calm/quiet while in crate: Yes
Understands going outside to potty
No Yes

Alerts me of need to go outside
No Yes

Is destructive of bedding and/or toys
No

Refrains from kitchen counter cruising: No Yes

Stays off people furniture: No Yes

---

Commands:

Comes when called: Yes
Sits on command: No
Down / Off: Yes
Shake / Paw: No
Crates on command: Yes

Medical

DA2PP: date (by)
Bordatella: date (by)
Wormed: Dates | Product | Dose | By
Rabies: Aug 22, 2019 (Cedarwood)
Spay/Neuter: Sept 4,, 2019 (Cedarwood)
Heartworm Test: date, result (by)

Flea/Tick preventative:
. Aug 22, Capstar, 25+ lbs
Heartworm preventative:
. date, product, dose
Progress Updates
In chronological order, newest at the bottom.
Aug 26
We only had the privilege of fostering this sweet boy for a weekend.  We "borrowed" him from Newport Animal Control because we knew he was gentle, calm, and affectionate, as well as being a really good looking dog.  The Quilts & Canines event was coming up and we figured that would be a great venue to help this boy find a forever home.
I picked him up on Friday and took him to our favorite groomer: Kathy's Grooming Parlor in Newport.  She brushed all the under fur out and bathed him.  He came out looking and smelling so much better.  He came home and spent the night with us. and we took him to the show on Saturday.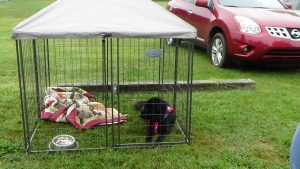 We put him in a portable kennel in front of our booth.  It had a roof to keep the rain and or sun off of him.  Many people came over to visit with him.  Almost all commented on what a well behaved boy he is.  Several said they'd adopt him in a heartbeat if it wasn't for (something).
Roxy, someone we are familiar with and one of the other "vendors" at the show, came to visit him several times.  Finally she said that she just loved this boy and would adopt him in a minute, but can't afford the adoption fee right now.  Another near-by "vendor", Cathy, overheard this conversation.  A little while after Roxy left, Cathy came and asked if she could take Martin for a walk.  We know Cathy well and were confident in her ability to manage Martin.
They walked around the perimeter of the show and ended up at Roxy's tent.  There they stood and talked for a while.  Then they called me over.  We discussed several things including what was involved in an adoption and what the adoption fee covers.  It's really quite a bargain, there is no "profit" involved for either Animal Control or the Veterinarian.
Then Cathy said, "If I pay the adoption fee and a couple months of food, would you adopt Martin and give him a good home?"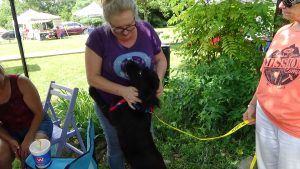 Roxy said, "Yes, I'd be happy too" and just then, Martin stood up and hugged her!  We were all near tears at that point.
I filled out the adoption paperwork with Roxy and we agreed on a time to meet at Animal Control so they could finalize things and schedule Martin's surgery.
That appointment went off without a hitch this morning, and Roxy took her new family member home with her.
We consider this a happy ending for all involved.
| | | |
| --- | --- | --- |
| | If you enjoy our pupdates, Doggy Tales, and educational articles consider subscribing for notices when new pieces are posted. It's painless and you can unsubscribe any time you want. Your e-mail address is used ONLY to deliver these notices. That's a promise! | |