Originally published May 30, 2014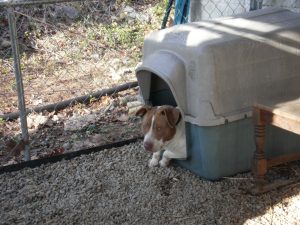 Boomer had his Immiticide treatments for his heartworm condition last week and spent several days feeling quite puny. He's doing better now. He's got a sparkle in his eye and a bounce in his step again. He's ready to run and play. So this is an especially dangerous time in his treatment.
He feels better and the heartworms in his system are dead. But when they die the worms can float down-stream in his circulatory system: right into the myriad of vessels and capillaries in his lungs where they lodge and block the blood flow. He needs to be calm until his body can absorb the dead worm tissue.
Getting his heart rate up through running and rambunctious play greatly increases the chances that something in his lung will become clogged and "blow out" (pulmonary embolism) causing bleeding into his lung. This is often fatal.
HeartwormSociety.org puts it this way: