This is a foster dog diary post about Bandit.  New information will be added to the end of this post so all info on this dog is kept in one place and in chronological order. If you subscribe for updates, a short note will be sent when updates are posted. If you don't subscribe, check back periodically to see what's been added.

Last Updated: Nov. 30

Bandit has been in foster care with Steele Away Home – Canine Foster and Rescue for quite some time.  He came into the program with mild aggression issues – more like intimidation issues.  Anyone who came up to him timidly would get growled at.  A confident approach yielded acceptance.  That foster believes she has him worked through that and, for a change, PMFC gets to be the Finishing School instead of Boot Camp.  If he gets along well with our dogs and people, Bandit will go up as Available quickly.
Base Info: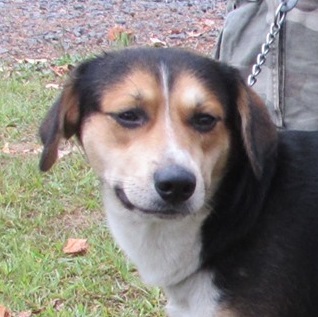 Arrival date: Nov. 19, 2019
Breed: Shepherd Mix
Sex: Male
Age: Puppy, Young Adult, Mature, Senior
Weight: @ 50 Pounds
Neutered: Yes
General Health: Excellent, Good, Fair, Poor
Temperament: Playful, happy, friendly
Gets Along with: People, Dogs, (Cats unknown)
Crate Trained: Yes
Housebroken: Yes

Departure date: Undetermined
History
Bandit was raised by a couple who lived in a camper.  When that was no longer a suitable arrangement he went through a couple of homes and into rescue because he had developed a bad attitude.  Can you blame him?  But Ashton seems to have done a fine job of working him through that and restoring peace and happiness to this giddy boy.
Progress Summary:
Detailed notes on this foster dog's progress are posted below the summary.
Dog to Dog Behavior

Relates well to other dogs: Yes
Can eat food/treats near other dogs: No Yes
Preferred style of play: He loves to run, playing tug-o-war, and tusseling with other dogs.

Dog to People Behavior

Is affectionate: Yes
Is good with:
. Men: Yes
. Women: Yes
. Children: Yes
Jumps up on people: No
Mouths: No
Walks well on a leash: Pretty good

House Dog Training

Willingly enters his crate: With bribery
Is calm/quiet while in crate: Yes
Understands going outside to potty: No Yes

Alerts me of need to go outside: No Yes

Is destructive of bedding and/or toys: Not so far

Refrains from kitchen counter cruising: No Yes

Stays off people furniture: No Yes

---

Commands:

Comes when called: Sometimes
Sits on command: Yes
Down / Off: No
Shake / Paw: Yes
Kennels on command: Yes

Bandit's Medical

DA2PP: 09/26/2019 (SAH)
Booster:
Bordatella: 09/26/2019 (SAH)
Wormed: Dates | Product | Dose | By
.
Rabies: 09/26/2019 (Paws and Claws)
Neuter: 09/26/2019 (Paws and Claws)
Heartworm Test: date, result (by)
. 09/26/2019 – Negative – (Paws and Claws)
Flea/Tick preventative:
. date, product, dose
Heartworm preventative:
. 09/26/2019, product, dose
. 10/26/2019, product, dose
. 11/26/2019, Ivermectin solution, 0.5 ml
NOTES:
.
.

Diet

4Health Salmon & Potato recipe, 1½ cups AM, 1¼ cups PM.
Peanut Butter Treats as rewards for crating and kenneling.
Progress Updates
In chronological order, newest at the bottom. Some pictures are linked to a more detailed Doggy Tale about that update, click those to open the related story.
Detailed Notes
Nov. 19
Bandit has been living with Ashton for a couple of months as she worked him through an "intimidation" issue.  Upon his arrival I greeted him and he responded warmly.  He and Blondie Bear got acquainted, played a little, then Bandit went off to sniff out the play yard.  Before she left, Ashton put Bandit in his kennel and he responded well.  He is getting along with his neighbors: Major and Spartacus, and all the house dogs have been out to greet him.
At bed time, Bandit went inside the bunkhouse with Major and Spartacus.  I showed him which crate is his, he went in after the cookie I tossed in, then sniffed out his blankets before settling in to sleep.
In the morning all was well in his crate.  He walked with me back to the play yard and kennels, where his breakfast was waiting.  But it was too early for him to eat (6:00 AM).  He preferred to go out in the play yard and run in the dark.  And run, and run, and run…
Nov 22
While all three main kennels were occupied, Bandit occupied the middle one with Major on one side and Spartacus on the other.  Bandit would occasionally speak loudly at Spartacus (a small beagle).  Starty is about as unassuming as anyone could be.  We know that Bandit had issues of trying intimidate those who seemed weak or afraid of him.  So when Major left I moved Bandit into the kennel Major had vacated (after sanitizing it, of course).  For the time being that leaves an empty kennel between them to mitigate any chance of hostility between them.
I allowed Buddy Beagle to come outside today for the mid-day play session.  Buddy and Bandit played together a little then got into a contest of dominance, first with paws on shoulders, then trying to mount one another.  That got Buddy to growling so I ended play time between them.  Bandit seemed to be good natured through the whole episode, it was Buddy who felt pressured to stand up to the bigger dog.
Bandit has kept his room clean, waiting for his play times to relieve himself.  He has been quiet almost all of the time, and he loves going inside at night to sleep in his crate.  He's not thrilled about the crate part, but does not fight it either.  So far he has been friendly with everyone who has been here.
Nov. 26
Bandit is getting frustrated.  He wants SO much to be a house dog, sees other dogs going into the house and stands at the door, barking "LET ME IN".
But despite his frustrations he is being good.  He keeps his kennel clean.  He keeps his crate clean at night, has not torn up bedding in either location, and he plays well with others.  Two of the beagles are intimidated by his size and enthusiasm and won't play with him.  One Beagle, the smallest one, turns the table on him by getting in under Bandit and pushing his legs.  This confuses Bandit so that he hops around with an adorably confused look on his face, "What's going on, what is he doing?" then he heads for his kennel.  This 23 pound Beagle is just too much for him!
Probably because of his frustration he has not warmed up to me much.  He is not unfriendly, just would rather be running in the yard than getting petted by me on his play times.  He used to come when I called him and would let me pet him a while.  Now he comes to within about 20 feet and stands there looking at me like, "When I get what *I* want, you get what you want."  That has to be the Shepherd in him!
Nov 30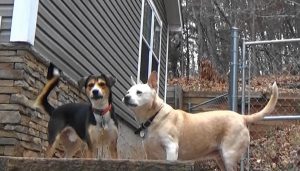 Bandit likes to play in the yard with Blondie Bear.  When it's his play time I leave him out for extra time while I do a chore: yard pick-up, mail run, or maybe a spot of gardening.  Today I was heading out for the mail run.  Bandit was down in the low corner.  I went out the middle gate.  I didn't pay too much attention to Bandit's activity because he would have to come all the way around the garden to get to where I was.
But in a masterful stroke of precision timing, just as I pushed the gate open enough to slip out, I heard, Pa-dum, pa-dum, pa-dum then felt as WHOOSH as Bandit rocketed through the gate with me.  NOOOOOOO!
Until a dog will respond to "Come" consistently I always attach a "handle" before I let them out into the yard.  This is a piece of light rope about 8 feet long with a piston clip on one end.  Nothing on the other end that might hurt him should it snag on something as he flies around the yard.  Something I can stomp on, then grab when he's playing keep away.  Which he does sometimes.
Rather than getting upset (and letting him know he's pushed my buttons) I talked to him the same as I would in the yard.  He ran a loop around my Mom's house (probably to say "Hello" to the mail carrier who was picking up a box down there) then a loop around me to say, "Lookee, lookee, I'm FREE!" then off into the woods above our house.  I could hear his progress as he crashed through the brush, but could not see him.
I began to envision the poster: "Last seen heading north on Piney Mountain Rd".  But then I heard it: children's laughter.  Ah, ha!
I went down the driveway and began hiking along the roadway to the next house.  When I got there, there were three young boys, the dog who lives there, and the Dad in the yard.  Dad had Bandit by that rope "handle" and was looking at the tag I put on all of our dogs collars, just in case.  I called out a "hello" and asked him to hang onto my escapee.
The boys gathered around Bandit and all seemed to be having a good time.  So, we can add "good with kids" to his resume.  This is not my favorite way to learn this, though.
Want to help
save lives?

PMFC is a 501(c)(3) Charity

If you enjoy our pupdates, Doggy Tales, and educational articles consider subscribing for notices when new pieces are posted. It's painless and you can unsubscribe any time you want. Your e-mail address is used ONLY to deliver these notices. That's a promise!