This is a foster dog diary post about Faith. New information will be added to the end of this post so all info on this dog is kept in one place and in chronological order. If you subscribe for updates, a short note will be sent when updates are posted. If you don't subscribe, check back periodically to see what's been added.

Last Updated: Nov. 11

Faith has obviously been someone's pampered pet, but she is now in need of a new family to love, and a sofa to lay on.
Base Info: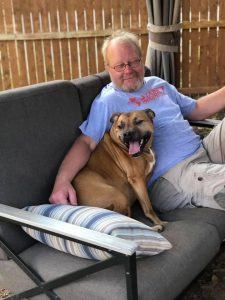 Arrival date: Sept. 12, 2019
Breed: Boxer mix
Sex: Female
Age: Puppy, Young Adult, Mature, Senior
Weight:  69 Pounds at intake
.               61.2 lbs 09/18/2019
Spayed: Yes
General Health: Excellent, Good, Fair, Poor
Temperament: Affectionate, submissive
Gets Along with: Some Dogs, Cats, People
Crate Trained: Yes
Housebroken: Yes

Faith's RescueMe listing: 19-08-10-00116
Departure date: Undetermined
History
Picked up as a stray July 31, 2019 and never claimed, Faith is in search of a loving home.  After having been at Animal Control for too long, Dr. Sandra Manes DVM pulled her, to be sure she was safe, and asked Piney Mountain to foster her.  Faith is overweight and in need of some serenity.  We will address both of those issues.
Progress Summary:
Detailed notes on this foster dog's progress are posted below the summary.
For a listing of Doggy Tails that include Faith [click here].
Dog to Dog Behavior

Relates well to other dogs: Does fine with some dogs, not with others.

Can eat food/treats near other dogs: Yes Has done so in her kennel with other dogs just outside.  Have not tried free-ranging this yet.

Style of play:  Her favorite thing to do while shes out in the play yard is to flip on her back and wiggle-scooch down a hill.  Now that she's losing weight she enjoys running.  Bounces around a little with Blondie Bear.


Dog to People Behavior

Is affectionate: Yes
Is good with:
. Men: Yes
. Women: Yes
. Children: Yes
Jumps up on people: Yes – but getting better

Mouths: No
Walks well on a leash: No – working on this


House Dog Training

Willingly enters her crate: Yes
Is calm/quiet while in crate: Yes
Understands going outside to potty: Yes

Alerts me of need to go outside: Yes

Is destructive of bedding and/or toys: No

Refrains from kitchen counter cruising: No Yes

Stays off people furniture: No


---

Commands:

Comes when called: Yes
Sits on command: Yes
Down / Off: Yes
Shake / Paw: No
Kennels on command: Yes

Faith's Medical

DA2PP: 08/21/2019 (Animal Control)
. 09/11/19 (Cedarwood Veterinary)
Bordatella: 08/21/2019 (Animal Control)
Wormed: Dates | Product | Dose | By
.08/26/2019 Pyrantel Pamoate 5.5 cc
Rabies: 09/11/19 (Cedarwood Veterinary)
Spay: Done prior to arrival at NAC
Heartworm Test: 08/28/2019, NEGATIVE (Cedarwood)

Flea/Tick preventative:
. 08/30/2019, Comfortis, 20-40 lb x 2
.
Heartworm preventative:
. 08/30/2019, Triheart, 25+ lb + 26-50 lb
. 09/30/2019 Ivermectin solution, 0.6 ml
. 10/31/2019 Ivermectin solution, 0.6 ml
NOTES:
. Faith is overweight.  Dr. Sandra says this is due to inactivity more than overeating, Faith generally leaves food in her dish.  Having a large yard to play in should help that.
. I found blood on the floor of her kennel when I went to retrieve her dinner dish.  See 9/13 and 9/18 entries below.

Diet

4health Mature Adult Formula.
1½ cups AM, 1¼ cups PM
Progress Updates
In chronological order, newest at the bottom. Some pictures are linked to a more detailed Doggy Tale about that update, click those to open the related story.
Sept 9
Faith was supposed to be coming here today, a foster dog who was supposed to be leaving on last weeks transport got bumped to next week's run.  So I don't have a vacancy yet.  This should be corrected on Thursday the 12th.  Once she's here I can begin the evaluation and provide more detailed information.
Sept 12
Faith has arrived.  She rode well.  When I let her out in the play yard she peed, pooped, then rolled on her back and wiggle-scooted all the way down the hill.  She's a hoot!
Due to a sudden change in The Plan a dog that was supposed to have left last week didn't, and a change to Faith's recent housing brought Faith here a little early and I do not have an empty kennel for her.  But I will in a few hours.  So Faith is lounging in a crate until Louis and Sable leave this afternoon.  She seems content with that for now, and the whole gang has come by the say, "howdy!"
Sept 13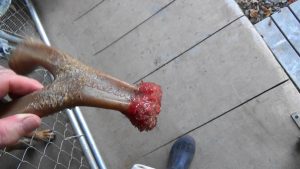 Yesterday I found blood on the floor of her kennel, and blood on her foot, though she wouldn't let me have a good look.  This morning I found her Benebone chew toy bloodied up.  Her gum is bleeding around a tooth, left side, lower jaw, about half way back.
I removed the Benebone and replaced it with a rope toy.  I've alerted Dr. Sandra, we will see what needs doing next week.  This might be why she's not eating the kibble too.  I have some canned food.  I'll try that until she see's her vet.
Sept 16
I made an appointment with Cedarwood Veterinary Hospital to sedate Faith and have a good look at her teeth – and trim her toenails.  Since I removed the Benebone I've seen no blood on the floor or in her mouth.  She is eating kibble now too, apparently without discomfort.
Sept 18
I took Faith to Cedarwood Veterinary Hospital this morning.  I put her in a harness to avoid choking her when she pulled on the leash.  She rode well and did well in the reception area.
Faith allowed the good folks at Cedarwood to examine her teeth and gums without being sedated.  They found indications that she had scratched her gums (probably with that chew toy) but that had healed.  Her teeth and gums are in great shape with only level 2 tartar.  She's also down to around 61 pounds!  Yay!
Sept 23
Faith is doing better with the "come" command.  She is settled into her kennel and seems to like spending time in her dog house.  She lays on her Kuranda dog bed in the afternoons when it gets warm.
Sept 25
Yesterday I bought a couple of Bully Horns for the doggos to chew on.  I particularly wanted one for Faith because the Benebones I bought them tend to "fuzz up" and that roughness was scratching her gums and making them bleed.  So I took it away and gave her a ropey toy.  She would rather have a proper chew toy and has tried to steal Rosco's through their common wall.
I was hoping to post a video yesterday of how much Faith liked this new chew toy, but, alas, she ignored it all afternoon and evening.  But this morning, when I went out to clean kennels, she was doing this:
Oct 4
It's a brisk 68° this morning and Faith is running all over the place.  The nice cool temps help, but so does the fact that she's lost about 8 pounds since intake.
Oct 11
Since Faith has been here, she has been going out into the yard with Blondie Bear.  Faith pretty much ignored Blondie until this past week.  One day early in the week I noticed the two of them bouncing around and playing a bit while I cleaned Faith's kennel.  It didn't last long then, Faith wandered off.  A couple of days later they were at it again, and I got my camera out to record their fun.  But as soon as I turned my attention to them, Faith's attitude changed:
As you can see her tail is low and slow,her eyes are round, mouth closed, and she's licking her lips.  All signs of tension.  Violence was about to break out.  This is not the first time with Faith, she has gone after Major and Callie because they were close to me.  This is jealousy driven.  Acting this way toward Blondie Bear is new.
I called Faith with a happy, excited voice.  Faith broke off from the impeding confrontation and came running over to me.  I kept her in her kennel while I finished cleaning.
The next day, everything was back to normal as the girls ignored one another.  Faith was happy to lay in the sunshine.  The following day they were again playing and seemed to be keeping it civil.  So I kept an eye on them, but out of the corner of my eye, not looking directly at them, and I skirted around them as I cleaned the yard.  They played for a while, then Faith came to see if her room was done and I had a treat for her.  Much better!
Oct 17
It's been getting chilly at night – and will get chillier in a couple of days – and Faith has short fur and a bare-naked belly. So a couple of mornings I took two old polar fleece blankets out and put them in her dog house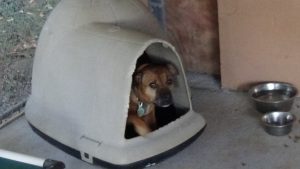 after I cleaned her kennel. Faith saw me carrying the blankets and was excited by them. When I let her back in her room she flew right past me and her treat, dove into the dog house, ran a couple of laps inside, then settled in the door, "THANK YOU!"
Poor Faith is accustomed to finer living. She obviously was a house dog, house broken, accustomed to furniture privileges and a lot of attention. But because she needs to be an only dog (she gets jealous with *some* dogs) the rescues we've approached won't take her.  She needs to be good with *all* dogs for them to want her.  She is not a mean dog and if she were integrated properly into a house with another dog as she bonded with the people it should work out fine.  We were not able to do that with her here because we already had FIVE dogs in our little house.
Oct 20
Another comfort upgrade came today as Marie completed a project she started a while back.  The kennel dogs got new pads for their dog houses or bed. Faith appreciates hers.
Details: http://pineymountainfoster.org/new-dog-bed-pads/
Special thanks to Fredia Haley of Foothills of the Smoky's Quilt Shop.
Nov 11
We've started bringing Faith inside at night.  She and Callie have had issues and one major spat, so I cannot allow Faith to roam the house until we get that issue resolved.  But Faith is delighted to be inside, even if it's just barely inside.  And she likes Glen Miller music,she even keeps rhythm  with her tail.
.
---
| | |
| --- | --- |
| If you enjoy our updates, Doggy Tales, and educational articles consider subscribing for notices when new pieces are posted. It's painless and you can unsubscribe any time you want. Your e-mail address is used ONLY to deliver these notices. | |