This is a foster dog diary post about Dawson. New information will be added to the end of this post so all info on this dog is kept in one place and in chronological order. If you subscribe for updates, a short note will be sent when updates are posted. If you don't subscribe, check back periodically to see what's been added.

Last Updated: Dec. 7

Dawson is a friendly, gentle, amusing fellow.  I can't imagine why someone starved him then dumped him.
Base Info:
Arrival date: Dec. 2, 2019
Breed: Boxer/hound mix
Sex: Male
Age: Puppy, Young Adult, Mature, Senior
Weight: 53.8 Pounds
Neutered: Not yet
General Health: Excellent, Good, Fair, Poor
Temperament: Sweet, playful, loving
Gets Along with: People, Dogs, Cats
Crate Trained: Yes
Housebroken: Yes No

Departure date: December 7th, 2019
History
Dawson was dumped by someone at the end of a dead-end road in Del Rio. He was 30 pounds under-weight and in pretty rough shape, but still a sweet boy. A local called Animal Control to come rescue him.  He weighed 46.1 pounds at that time – should be at least 70 pounds!  Friends Animal Shelter put eight pounds on him before he came here.  I'll finish the job so they can adopt him into a GOOD home.
Progress Summary:
Detailed notes on this foster dog's progress are posted below the summary.
Dog to Dog Behavior

Relates well to other dogs: Yes
Can eat food/treats near other dogs: No Yes
Preferred style of play: He likes to play with a large ball.  Hasn't initiated play with Blondie yet.

Dog to People Behavior

Is affectionate: Yes
Is good with:
. Men: Yes
. Women: Yes
. Children: Unknown
Jumps up on people: He bounces into me in play.
Mouths: No
Walks well on a leash: Yes

House Dog Training

Willingly enters his crate: Yes
Is calm/quiet while in crate: Yes
Understands going outside to potty: No Yes

Alerts me of need to go outside: No Yes

Is destructive of bedding and/or toys: No

Refrains from kitchen counter cruising: No Yes

Stays off people furniture: No Yes

---

Commands:

Comes when called: Getting better
Sits on command: Yes
Down / Off: No
Shake / Paw: No
Kennels on command: With bribery

Dawson's Medical

DA2PP: 11/19/2019 (FAS)
. Booster:
Bordatella: 11/19/2019 (FAS)
Wormed: 11/19/2019, Panacur, 9 ml (FAS)
Rabies: NEEDED
Spay/Neuter: NEEDED
Heartworm Test: NEEDED, result (by)

Flea/Tick preventative:
. date, product, dose
Heartworm preventative:
. date, product, dose
NOTES:
. At intake he has a bad case of runny stool due to his digestive system shutting down from starvation.  I'll add sweet potato to his kibble to help regulate the bowels.
.

Diet

1 cup 4Health Salmon & Potato recipe with Coconut oil and fresh sweet potato added,  5 times daily
Gallery
In chronological order, newest at the bottom. Some pictures are linked to a more detailed Doggy Tale about that update, click those to open the related story.
Progress Updates
When picked up by Animal Control, Dawson weighed only 46.1 pounds when he should be at least 70 pounds.  He was described to me as being "skin on bones".  He is approximately 1 year old, maybe a bit less.  Probably someone's Christmas puppy last year, now dumped to make room for this years "gift".  His digestive system isn't working right from having been empty for too long.  We're addressing that with pureed pumpkin and small, frequent meals.
When I picked him up he met the shelter cat on his way to the scales.  He gave the cat a friendly, "Hello there!" and kept walking.
Dec. 02
His first day has been spent settling in.  Our gang has been out to meet him and no one had any disparaging words.  Except Spartacus the 23 pound beagle.  He stood up on fencing and baroo'd several times, telling Dawson that he is boss here.  Dawson cocked his head and looked at him with a "you've GOT to be kidding me" look.
Dawson found a yard ball and had a great time playing with it while I set up a crate in the bunkhouse for him to sleep in at night.  Bandit will be glad to have a roomie again.
This big boy is going to go through a LOT of kibble as we get some weight back on him, and coconut oil, and canned pumpkin.  If anyone would like to help us with that expense, we'd be ever-so grateful.
Dec. 5
Over the past couple of days, adding mushed up sweet potato (from my garden) to Dawson's kibble has done wonders for his diarrhea.  He's passing almost normal stools now.  And I think his bones are not showing through quite as sharply as they were.  He's getting kibble measured for a dog of 125 pounds PLUS coconut oil.  He's fed at 5:30 am, 9:00 am, noon, 3:00 pm, and 5:30 pm.
He goes inside at night to sleep and he is good about going into his crate and settling for the night.  In the morning he's eager to get out but does not drag me back to the play yard.  He eats his breakfast, makes a quick potty run, then returns to his room (kennel) to settle in on the blankets on his Kuranda with his chew toys and his ball.  He LOVES that ball!
Dec. 7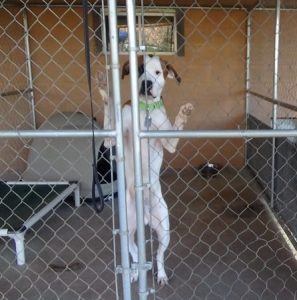 Last night we got back late (just before midnight) from a transport and I was messaging with Elisha at Friends Animal Shelter.  She said that a rescue in Boston had seen this page and really wants Dawson.  I mean REALLY want's him, and they want him ASAP.  So I took Dawson back to FAS this morning where he will hook up with Brother Wolf (from Asheville NC), who will facilitate his transport to Boston.  Wow!
It has been a genuine pleasure working with this handsome fellow.  I loved the way when I'd bring his food to him (in a zip-lock baggie because I made up the days supply every morning) he'd put a paw on his dish and scoot it back and forth, indicating, "Here it it, this is my dish.  Put the food in here so I can eat.  I'm SO hungry!"  But he never went after the baggie or tried to take the food away from me.  Handsome and polite!  Happy tails, big fella!
Want to help
save lives?

PMFC is a 501(c)(3) Charity

If you enjoy our pupdates, Doggy Tales, and educational articles consider subscribing for notices when new pieces are posted. It's painless and you can unsubscribe any time you want. Your e-mail address is used ONLY to deliver these notices. That's a promise!