When I first met Julian, he was sitting in an outside pen at the Humane Society where I work. He was a mess.
Julian had been picked up by animal control because a resident called to report a dog fight. I don't have details about exactly what happened or what became of the other dog, but Julian got chewed up pretty badly, especially his head. We were giving him antibiotics to fight infection and help his wounds heal.
He was sitting, with his feet all bunched up, on a yellow toilet seat cover. Someone gave us a bunch of them to use as comfies — we use them mostly for cats in their wall crates. But here was this brown, 60 pound boxer bunched up on this woolly toilet seat cover like it was the best thing in the world: an oasis of comfort in an otherwise miserable existence. It was funny and heart breaking at the same time.
Over the weeks, Julian began to mend and he proved to be gentle and friendly when we worked with him.
Then we tested him for heartworm … and the test came up positive. Our boss wasn't surprised: Julian had obviously been neglected and allowed to run loose. It was no shock to find he was not on a preventative. She said the best thing to do was to put him down. With his scars and the HW+ there was no way he was going to get adopted, and we don't have the facilities to treat his HW anyway.
I could not let this precious boy be killed: and at this point, he was, literally, just minutes away from going under The Needle. I offered to foster him through heartworm treatment and help raise funds to cover the expenses.
He came home with me today. We will provide him with the needed care and quiet environment to get him through his treatment. I will also work on healing his scars … vitamin E works wonders!
April 12, 2017 by Doug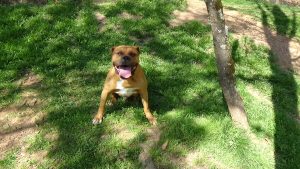 Julian has been here two days and has settled in nicely. He has met and gets along with all the other dogs here, and he LOVES our big play yard. He's fond of just sitting in a shady spot of grass and chilling.
I'm having a hard time getting him to eat. I've tried several brands of kibble and he keeps burying the dish in the gravel floor of his pen. That's going to draw bugs and maybe vermin.
April 15, 2017 by Doug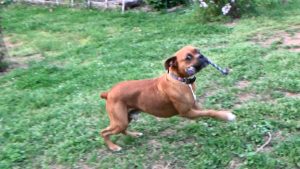 Amy Huff brought Sylvia for a visit today and brought her teenage daughter, Jessie, with her. Jess has the stamina to run and play with Julian and the two of them had a great time playing keep-away with a ropey toy. By the time they were done, both were exhausted.
April 17, 2017 by Doug
Julian can be such a silly boy!
At the moment, Julian's heartworm treatment consists mostly of antibiotics. He has had a dose of Heartguard, but will not get his Immiticide shots until June 5th. At that point, he will go on strict activity restriction and spend a month being kept as calm as possible so his heart and lungs don't suffer potentially fatal damage. Once he's through his 30 day recovery period (assuming no embolisms developed) he will be ready to be adopted and go on to a happy, healthy life.
April 27, 2017 by Doug
Josephine has become Julian's best friend and constant playmate. They will chase each other and frolic around for hours. Today Josie invented a new game that seemed to frustrate Julian.
May 1, 2017 by Cochise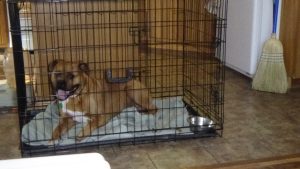 Over the weekend, my Peoples were bringing Julian inside to have dinner with us. He stayed in his "room" and watched how civilized dogs behave.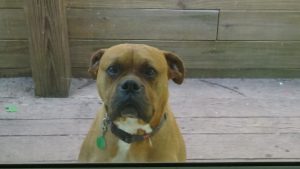 Now he tends to hang out on the back porch (when he's not playing with Josephine). Sometimes he peers in, asking to come in too, sometimes he just snoozes out there.
Today HairyFace brought him in to watch while Blondie and I got our toenails trimmed.
Then Hairy trimmed Julian's front toenails. All of this went well, so Hairy let Julian out of his crate to wander around the house a bit. He checked everything out … then peed on Josie's crate. A token of his affection.
Julian is back outside now.
May 7, 2017 by Cochise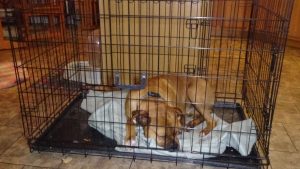 HairyFace has been inviting Julian inside when Hairy is home and in the house. Julian always accepts and has come to calmly accept that most of the time being indoors means being in his "room". He is no longer combative about going in there and does not fuss about wanting out. He's just happy to be with the rest of us.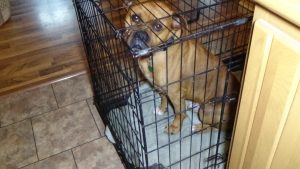 On Saturday evenings, HairyFace makes a custom pizza and salad for dinner. While Hairy was making the Saturday Night Pizza, Julian paid close attention: the scents of pepperoni and cheese held his interest.
Julian had a nice long session of playtime and occupied himself with various chew toys and bones while lounging in front of the fireplace.
At bed time we all went outside to empty out for the night then back inside to snuggle into our beds … including Julian.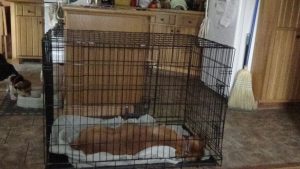 He used to hate being crated and whined and fussed the whole time. But now he'd rather be crated inside with us than outside on his own. He's watching us Good Dogs and following our example.
Julian is going to be a GREAT family dog for someone!
June 7, 2017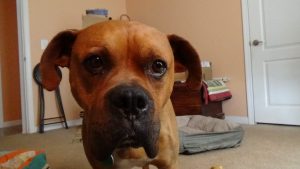 Julian came home from the vet yesterday. He'd spent a couple of days there getting his Immiticide shots (treatment for heartworm), so he was feeling a lot of pain. Doing better this morning than yesterday evening, and will be better yet tomorrow.
But he's especially clingy right now. "Don't ever EVER leave me again!" and he's right by my side at every step I take. If I go out on the porch to put something in the trash can, he must go with me, even though he can see through the door and I'll be back in 20 seconds. Poor fella. It's a good thing I have today off. I do need to run out for a short errand this morning, but I'll be as quick as I can.
June 24, 2017 by Doug
I whipped up a dog toy/treat dispenser for the shelter, but I let my dogs test it out first — to see if it works and is interesting to them. Blondie and Cochise sniffed it and walked away. Josie Bean thought it was scary, but Julian was fascinated. It took him almost no time at all to figure out that if he just lifts the bottles with his nose the treats fall right out. He's a bright boy!
July 4, 2017
Julian has finished his recovery time and is now cleared to resume a normal life. If he wants to:
He seems to have lost interest in rough-housing with Josephine!
July 10, 2017
Julian got us up around midnight last night with a wheezy cough that brought up copious amounts of white, foamy phlegm. My guess is that he's got an upper respiratory infection. He may have picked it up from Buddy: since they take turns in a pen.
I'm going to try to get him in at Cedarwood today and find out what's going on. Buddy and Blondie are both scheduled for tomorrow, so I'll have them check Julian then.
–//#\\–
The Dr. Kline says his issue is aftermath from his heartworm treatment. His heart sounds strong and clear, and there is no fluid in his lungs (anymore) but the cough is caused by dead worm tissue still irritating the lung. She put him on another round of Prednisone and Doxycycline. That should take care of it.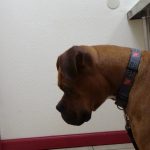 Julian found many things to investigate while we were waiting in the exam room.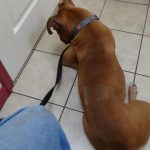 He also enjoyed eavesdropping on the people and dogs out in the main lobby.
He was a very good boy and both Chad, the vet tech, and the doctor commented on how calm he is for a boxer. And he doesn't DROOL!
July 19, 2017 by Cochise BigDog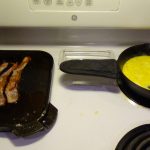 HairyFace fixed bacon and cheesy-eggs for breakfast today. They smelled scrumptious!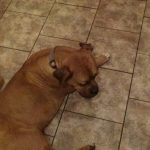 Julian wanted to supervise, but Hairy said, "You're in the way, fella. You need to move."
So he went to his crate to wait, but made his desires known.
When Hairy warmed the plates in the microwave (a good indication that the cooking is done) it was Julian who went to the back to tell NiceLady, "'Scuse me ma'am, it's time to eat and we'd be ever so grateful if you'd come out there so we can do so." He's such a polite boy!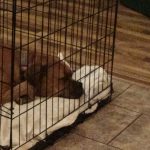 After his belly was full, Julian settled in on his pillows to rest until the Peoples were done and would let him outside for a post-breakfast run in the yard.
Julian's cough is better, but not gone. He has a follow-up appointment with Doctor Sandra on Monday, he may get a chest X-ray then if he's not past the cough by that time.
July 24, 2017
We went for a follow-up visit at Cedarwood Veterinary today. Julian's cough as tapered off and went away. He's been fine for about 4 days now. The doctor confirmed that he sounded great but wants to see him again in a couple of months … just to be sure. I told her, "That might be difficult, as I expect he'll be living in New York state by then."
Her eyes went wide, "You mean you're not going to adopt him? How can you NOT adopt him? He's a wonderful dog!"
Yes he is. But this is how rescue works. I am one stepping stone in the path to his forever home. As much as I'd like to, I can not adopt them all.
July 30, 2017
Julian has been allowed to sleep in a snuggle bed in the bedroom with the rest of us for the past three nights.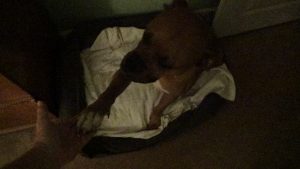 The first night, Julian seemed to understand that this was a test: a trial. He shook my hand and said, "I appreciate this opportunity to prove myself, Sir: I shall not let you down." And he didn't. Even when Josephine got me up at 2:46 AM to let her outside, Julian (who normally has to be in the middle of EVERYTHING) stayed resolutely curled up in his bed.
He's done perfectly for the past three nights. When I get up to give Blondie her 2:00 am meds, he gets up and follows along (hoping for a snack) but when we go back to bed, so does he. No fussing abou
t it. Josephine sometimes tried to get him to play with her and he says, "No. It's time to be in bed, little girl, you should be in bed too." and goes right back to his bed so no one steals it from him. Sometimes they do that: sort of a round-robin game of "that bed looks better than mine." Not Jules. He knows which bed it his because I put the blanket from his crate in it.
One morning, after we all got up and went outside, Jules wanted to snooze in the den. So he went into the bedroom, grabbed that white blanket from his bed and dragged it into the den. Not quite as comfy as the whole bed, but it's his.
August 11, 2017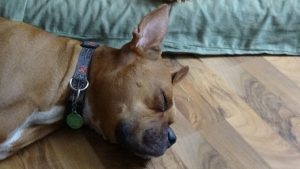 Julian has done excellently in his house-dog training.
He is fully and reliably house broken.
He is non-destructive of his bedding or the people furniture and carpeting.
He has learned to dine around the table with the family dogs: sitting on his blanket waiting for his dish in his turn (Cochise is the Big Dog so he get his dish first).
He has learned to scale his play: gentle(er) with little Josie, not so much with Shiloh — but when Shiloh says, "That's enough" he backs off and they walk around together or settle in some shade for a rest.
If Jules and Josie get too rowdy indoors and Cochise yells at them to "knock it off", Julian steps away, "Yes, sir; sorry, sir. I didn't mean to get carried away."
Although Julian is an unaltered male, in all his time here he has never once tried to hump any of the girl dogs (or boy dogs – or the furniture, or people). That alone makes him exceptional.
Julian is crate trained, and likes his crate, but doesn't need it except when Marie and I both go away for a long time – and that's just to keep Josie from instigating rough play that might accidentally break something.
He sleeps in the bedroom with the rest of us
He is allowed to wander freely through the house all the time Marie or I are here (and if we step outside for a while to work in the yard).
And, he is a lovey snuggle bug who just LOVES attention.
Julian is a certified Good Boy.
Julian will be going to the Steele Away Home medical day on August 18 to be neutered, and has a ticket to ride the rescue bus on August 25th. We will miss him terribly and hope he finds a forever home quickly. Who could resist this smart, gentlemanly, love bug?
August 18, 2017
August 25, 2017
Julian left this evening for transport to Sheridan's Foster Friends where Meryl and her friends will help Julian find his perfect forever home. To follow along with his continuing adventures — or to pursue adopting Julian — please go to: Sheridan's Foster Friends on Facebook or Fur Friends in Need, their web site.
The Big Finish!
I got an email on October 29, 2017 that made my heart sing!
Hello Doug,
My name is Debra and I became Julian's mama this past Thursday. I wanted to thank you for saving him. He is the most amazing dog. He is incredibly sweet. He is wonderful in the house and is learning very quickly how to walk on a leash and follow commands. He is very smart. My children adore him and my husband is in awe of how gentile he is. We are all so very grateful to you and Marie for all you do. I wanted to let you know that Julian did indeed find his forever home and will be very well cared for and loved, thanks to you and Marie.
Best Regards,
Debra
Debra included a wonderful collection of pictures as well. Click the small pictures to view large ones.
When Debra replied to my inquiry about permission to post her pictures and letter, she included an even more touching note and one more photo that is very special.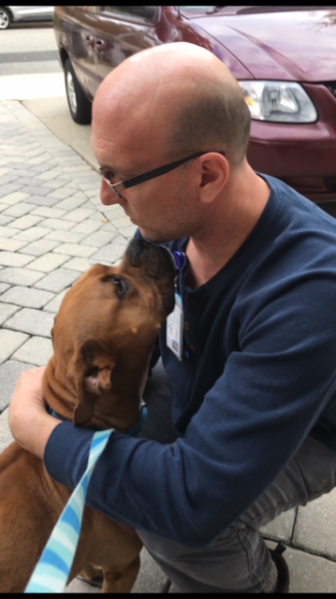 I am sending you one more photo. It's the moment that Julian met his new daddy. Julian is my husband's first dog. I have had several. Although he was hesitant at first, he now insists that "life is too short not to have a dog". I can already see the mutual love between them.
I have read your blog about Julian many times. It was posted by Meryl on the Fur Friends in Need Facebook page. That blog and the videos of Julian are the main reason that we pursued this adoption. After I met Julian at the adoption event and saw those videos, I knew that I had to have this dog. I will keep you updated on his new adventures.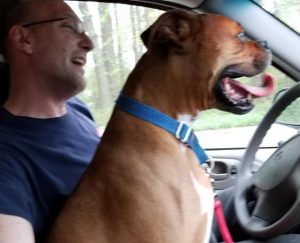 Be well,
Debra
While Julian's rescue dog story is ending, he is beginning a new story as a much loved member of his new Forever Family. THAT is what canine rescue is all about!
| | | |
| --- | --- | --- |
| | If you enjoy our updates, Doggy Tales, and educational articles consider subscribing for notices when new pieces are posted. It's painless and you can unsubscribe any time you want. Your e-mail address is used ONLY to deliver these notices. | |