This sweet trusting dog has spent his life being beaten and mistreated.

Yet he retains his loving spirit and trusting heart.

Last Updated: Aug. 8, 2020

Base Info:
Arrival date: July 13, 2020
Breed: Hound
Sex: Male
Age: Youth, Adult, Mature, Senior
Birthdate: 2009 (according to surrendering family)
Weight: @55 Pounds
Neutered: Yes
General Health: Excellent, Good, Fair, Poor
Temperament: Mild and gentle, affectionate, a true gentleman.
SAFER test performed? No.
Departure date: July 31 headed for Karen the Amazing via A.R.N.N.E.
History
Surrendered to Greenville Animal Control, this sweet trusting dog has spent his life being beaten and mistreated by a mentally handicapped resident of the group home where Smokie lived.  Yet he retains his loving spirit and trusting heart.  Because of GAC policy, Animal Control was going to put him down.  But Jammie, of Cats In the Cradle in Mosheim TN, came to his rescue and pulled him out just in time.  She asked for help and Animal Rescue Network of New England. stepped up.  Piney Mountain is fostering him for A.R.N.N.E.  We hope he can finally join a family who will appreciate his awesomeness.
Smokie's (Archie's) Progress Summary:
Detailed notes on this foster dog's progress are posted below the summary.
Relational Behavior

Relates well to other dogs: Mostly
Can eat food/treats near other dogs: Yes
Preferred style of play: Walking.  Does some frolicking with Josephine, our youngest
Is affectionate: Yes
Is good with:
. Men: Yes
. Women: Yes
. Children: Yes
. Cats: Unknown
Jumps up on people: No
Mouths: No
Walks well on a leash: Yes

House Dog Training

Willingly enters his crate: Needs mild encouragement
Is calm/quiet while in crate: Yes
Understands going outside to potty: Yes

Alerts me of need to go outside: Yes (whines)

Is destructive of bedding and/or toys: No

Refrains from kitchen counter cruising: Yes

Stays off people furniture: Yes

---

Terms of Adoption:

Commands:

Comes when called: Yes, although slowly
Sits on command: No
Down / Off: N/A
Shake / Paw: No
Kennels on command: Yes

Smokie's Medical

Max 5: 07/08/2020 (Animals West Vet. Hosp.)
. Booster: 1-DAPPv 07/23/2020 (PMFC)
. 368150-03  Ser:02121845B  Exp:04May21
Bordatella: 07/08/2020 (Animals West Vet. Hosp.)
Wormed: Dates | Product | Dose | By
. 07/14-16/2020 Fendbendazole 11ml PMFC
Rabies: 07/08/2020 (Animals West Vet. Hosp.)
Microchipped: Yes.
To register: https://www.freepetchipregistry.com/
Spay/Neuter: Date unknown-done long ago.
Heartworm Test: 07/08/2020 (Animals West Vet. Hosp.) NEGATIVE
Flea/Tick preventative:
. 07/14/2020 Fipronil 45-88 lb topical
.
Heartworm preventative:
. 07/14/2020, Ivermectin orally, 0.6 ml
.
NOTES:
. Teeth are in good shape for his age.
. Has several fatty tumors, 2 large on his belly.
. Has several wart-like growths on his head.
. Has a hard mass on his left shoulder.
. Movement seems a bit stiff, starting on Synovi G4 supplements and 1200 mg Fish Oil caps
. 07/24 Trizultra+Keto ear wash used to break up waxy discharge.  Right ear was the worst.
. A cyst came up in Archie's left eye, lower lid.  I've been treating it with Boric Acid solution, but that hasn't helped much.  Cedarwood prescribed NeoPolyDex Opth Solution for 7 days.  I'll treat until he leaves.

Diet

Started him on Mature formula kibble: HATED It!
Switched him to what everyone else eats (Victor Professional) and home-made stew: much better.
1¼ cups kibble & 3.5 oz stew per feeding (AM & PM)

He's picky about treats too.  His favorite is Canine Carry-outs Pot Roast Flavor.  He's become fond of our PMFC Peanut Butter treats too.
Gallery
In chronological order, newest at the bottom. Some pictures are linked to a more detailed Doggy Tale about that update, click those to open the related story.
Progress Updates
Progress notes are listed below, in chronological order, newest at the bottom.
July 14
Smokie slept well last night, no baying or barking at all.
When I fed him this morning I let him out to free-range wander (figured I'd have no trouble catching him if I needed to and he's definitely not going to climb over the fencing) while I fed the others.  When I was done with that, Smokie was standing watching.  I called him and he strolled over to get head scritchies and went right back in to his room to eat his breakfast.
The people who surrendered Smokie claim he's 11 years old.  Both Jammie and I feel he's not that old — or he's well preserved.
July 15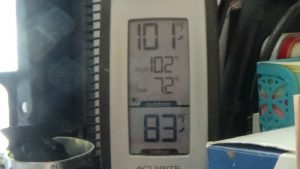 It got really hot today: 102° air temperature and when you add in the humidity we got a heat index of about 185° (joking here, but it was hot).  Smokie, being an elderly gentleman, was not handling the heat well.  So I set up a large crate in the house and risked the ire of The House Dogs by bringing him indoors.
Buddy Beagle and Callie Roo are forever fosters who have decided they are tired of the constant flow of foster dogs through THEIR house and get grumpy with them.  Blondie Bear and Josephine (both are adopted rescues) are always ready to welcome new friends.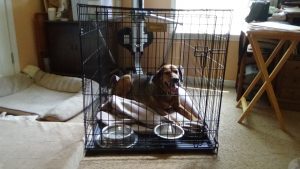 I use a baby gate to partition off areas to keep house guests and house dogs separate until they work out their issues.  Smokie enjoyed being cooler.  He was crated (except for the occasional yard run) while i was working during the day ( a lot of in and out as I tend to the dogs) but in the evening he got to come out and lounge around the den while I worked at my desk.  He'd come over to me frequently to get scritchies.  Nothing demanding, just come stand there and look at me with a "Pleeeease?" expression.  It cooled off nicely that evening, but we decided to try letting Smoke stay indoors.  He whined a little when we all went to bed, but then settled and slept soundly until I got up at 4:30.  He went outside for a long yard break then settled in on a bed in the den while I updated our web site.
July 17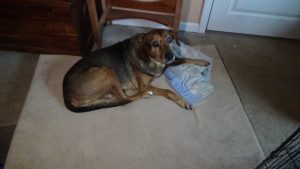 Smokie has become a house dog.  For the past couple of days Smokie has been inside with us almost full time day and night.  On Thursday Marie and I had to go run errands and it was in the morning: still cool, so we put Smoke in his kennel outside while we were away.  But otherwise he's hanging out in our den.  He gets to explore the house when the House Dogs go outside for a potty run or to ward off a delivery truck or wandering cat.
Smokie is a picky eater, and I'm having trouble finding things he likes.  But he's pretty low-energy, so he probably doesn't need to eat much.  Or — maybe we just need to find the right bribe: Marie mixed some shredded cheese into his kibble and he gobbled them right down!
On Friday nights Marie makes some home-made stir fry and we eat off tray tables in the living room to watch an old Sci-fi movie.  The dogs get special treats too.  Smokie (Archie) is fitting right in.
July 22
Archie is such a dear old fellow, and is now a free-range house dog.  He sleeps wherever he wants at night and is free to wander the house all day – even when I go outside to work with the dogs there.  We do crate him when Marie and i both go away for an extended period just like we do with Buddy and Callie Roo.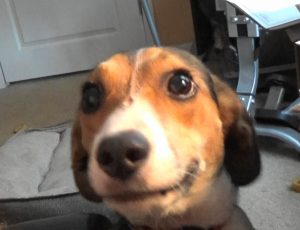 They're all good dogs, but when left on their own for too long they tend to get together and cook up mischief.  Mostly with Josephine.  Josie is our chief mischief maker.
I got word yesterday that Archie has a ticket to ride the transport on July 31st.  He'll arrive at the quarantine center in NH (state requirement) on August 1st.  His new Momma is also adopting Hunny, another senior Tennessee hound so they will at least have the same accent and will be able to relate well.  They both do the "propeller tail" thing, so it will be interesting to see if the twirl their tails together.
Buddy Beagle was giving Archie a hard time for a while because Archie was trying to lay his head over Buddie's back – a dominance move that says, "I'm the boss, you are under me" and Buddy took exception to that and I needed to intervene before it got ugly.  But they've worked through that as Archie learned that in fact *I* am pack leader and Blondie Bear is Boss Dog under me.  Although, she is a benevolent leader.  In fact, Buddy and Archie often go out to  wander the yard together — this is so one can pee on the same spots the other does but it's done without conflict.
July 27th
Archie passed his health certification today.  I have to go back tomorrow, so I'll pick up the completed paperwork then rather than making us both sit outside in the heat while they fill that out — which can take a while since they're doing that between phone calls, and running patients in and out, and processing payments, etc.  This "New Normal" is hard on most everyone.
July 31
We had a going away party for Archie last night, with extra treats – which caused him to need to go outside at 11:00 and at 3:00 last night.  He's been quiet and reserved this morning, he knows somethings up.  After the 3:00 run I settled in on the sofa to rest and Archie came and stood beside the sofa to get scritchies.  I gave him scritchies until he couldn't stand up anymore and went around the end of the sofa to lie on a plush runner rug that is there.  We both dozed until the other dogs stared wanting out at their usual time of 4:30.
Archie has been really good about letting me put his eye drops in twice a day — as long as he gets his Pot Roast treat afterward.  He does love those!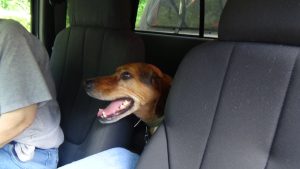 Happy Tails, Sir Archie!
| | | |
| --- | --- | --- |
| Archie laid over at The Spa for a couple of days after his transport. | | |
| PIC | PIC | PIC |
Want to help
save lives?

PMFC is a 501(c)(3) Charity

If you enjoy our pupdates, Doggy Tales, and educational articles consider subscribing for notices when new pieces are posted. It's painless and you can unsubscribe any time you want. Your e-mail address is used ONLY to deliver these notices. That's a promise!

You can also support us at no cost to you
with Amazon Smile.