An emergency situation brings this big handsome boy to us so another rescue could work with him safely.

Last Updated: April 3, 2021

Base Info:
Arrival date: Jan 4, 2021
Breed: American Staffordshire
Sex: Male
Age: Youth, Adult, Mature, Senior
Birthdate: Dec 2018
Weight: @60 Pounds on Jan 4
.
Neutered: Yes
General Health: Excellent, Good, Fair, Poor
Temperament: Rowdy but affectionate.
SAFER Test performed: No
Departure date: April 2, 2021
History
He was chained to an outbuilding and starved before being taken from his owner by Greenville Animal Control. A rescue worker, Heather, pulled him via Cat's In the Cradle New Life Sanctuary to prevent euthanasia and wanted to foster him. But she lives in an apartment and has cats. Timmy loves cats, especially with a dab of mustard. She has been working with him while boarded at Animals West veterinary office the last few days to help him learn how to walk on leash. But he needed a better environment, so he came to Piney Mountain Foster Care until he can be transported to Animal Rescue Network of New England.

Timmy's Progress Summary:
Detailed notes on this foster dog's progress are posted below the summary.
Relational Behavior
Relates well to other dogs: Seems to. 

He did well with a dog that he was tested with at the shelter.

  My whole gang greeted him upon arrival without incident. Timmy has been on a lead in the yard with Blondie Bear. He is "socially awkward" but not aggressive.
Can eat food/treats near other dogs: Yes, he and Blade often push their bowls against their separating barrier and eat inches apart without issue.
Preferred style of play: He doesn't play.  I don't think he knows how.
Is affectionate: Yes.  sometimes he just wants to melt into you because he's so much enjoying being petted.
Is good with:
. Men: Yes
. Women: Yes
. Children: Probably.
. Cats: NO! Definitely not.
Jumps up on people: Not that I've seen
Mouths: Only occasionally, when he tries to play with you.
Walks well on a leash: Yes.
Commands:
Comes when called: Most times
Sits on command: Yes
Down / Off: Not yet
Shake / Paw: Not yet
Kennels on command: Yes
---
Diet
💕 Victor Classic – Professional Dry Dog Food
. 2¼ cups + 3 oz. home made stew AM
. 1½ cups + 3 oz. home made stew PM
💕 PMFC Peanut butter cookies
💕 Retriever Beef Basted Sticks
💕 Jones Beef Hooves
💕 Pig ears
---
Gallery
In chronological order, newest at the bottom. Some pictures are linked to a more detailed Doggy Tale about that update, click those to open the related story.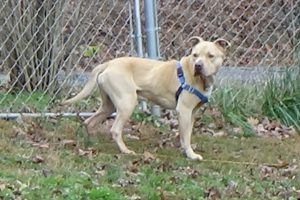 Progress Updates
Progress notes are listed below, in chronological order, newest at the bottom so you can read through this dog's history in order.
Jan 5
Timmy arrived yesterday evening and sent us into a flurry of construction because we needed to increase the height of the privacy wall between Timmy and Blade. They weren't getting along. I blame Blade for that, he was being a butt-head about having a new neighbor and his dinner being late. They settled down that night and both slept soundly.
This morning I took breakfast out to them and Timmy was curled up on his Kuranda (dog bed) in his bedroom, under his heat lamp and was SO happy. It make my heart ache that this sweet boy was so badly mistreated.
Our arrangement for this boy is something new for us: PMFC is basically boarding him. Heather will be coming to do his training. When he's ready he will transport to Animal Rescue Network of New England to be adopted.
Jan 8
Timmy has been here 4 days. Heather comes in the evenings to train him after she gets off work, I continue and reinforce during his daily play sessions. He's doing fine. He is quite affectionate, shows no hostility toward my other dogs. He's even learned to ignore Blade. He loves lounging under his heat lamp – which I leave on for him during the day because it's chilly and he's too thin to ward off the cold himself.
Jan 15
Timmy is doing much better at walking on a lead. Far less pulling and easily corrects when he forgets. He and Blade are playing games with each other through the barrier between them. Timmy has been in the yard with Blondie Bear on the loose. That was a little awkward for Timmy, but it turned out well. He sniffed her thoroughly, propositioned her, she said, "Not interested, sonny" and he wandered off to pee on something.
He now routinely sits on command, in fact he often anticipates and sits before I give him the command, so then I have to redirect by stepping away and asking him to "come" then sit. Most of the time he complies if we're in his kennel. Still iffy with the "come" command in the yard.
His transport date has been set for Feb 26. Heather will make arrangements for Health Certification and getting him to Bulls Gap to meet the transport truck.
---
Jan. 28
I took Timber off the lead-line for a few days, just letting him out to run unfettered. The first time he walked out the door, stopped, came back and nosed my hands, "You forgot something." I had to convince him that it was okay, he can go out without it. It brought him such joy! But that lasted only a couple of days before he began getting haughty and refusing to come when called. If I'd go take hold of the handle built into his harness he'd reach around and mouth my arm. It was done gently, but saying, "Don't do that." So I'd go get a leash. He does fine on a leash. So it was back to using the long lead.
About 60% of the time he responds to the "Come" command with an enthusiastic gallop across the yard to receive his small treat and petting. Other times he goes stone cold deaf! Sometimes he works his way over to me slowly, meandering along to eventually stand before me expectantly.
Timber is doing well with the "In Your Room" command, which means to return to his kennel. If I do this when he's within 30 feet of his kennel he will comply. About half the time he will comply from across the yard. But it does depend on if he's done all his business. If not he will hasten his search and take care of that before complying. Sometimes if I'm occupied (doing a poop pick-up in the yard or something) Timber will decide he's done playing in the yard and I'll find him sitting in his kennel waiting for me. What a good boy!
He is really well behaved while "trapped" in his bedroom at night. I put him to bed around 8:00 PM by taking him out for a leash walk so he can pee. Then back to his kennel. I go around and go inside, he comes in through his doggy door and I give him some small treat and close his doggy door. He will stand up and lean against the fencing so I can scratch the side of his face for a while. If I go inside with him he gets too excited, jumping around. Not enough room for that in there. Then he settles on his bed and sleeps. When I return at 6:00 AM to take him out again for a walk, he appears to have just been awakened, I could probably let him go longer, but I don't want to risk making him have to spoil his bedroom. As long as I let him out every 2 to 3 hours, he will keep his entire kennel clean, preferring to use the yard to potty.
When Blade and Blondie Bear are in the yard together they roughhouse. Timber watches and gets quite vocal. When I've put Blade up and let Timber out he goes bounding over to Blondie, intent on roughhousing with her too. But Blondie gives him a "Not so fast, Junior" look that stops him in his tracks. Then they walk around together and peer through the fence. I give him high marks for his ability to reign in that exuberance.
---
---
April 2
Timber went off to New Hampshire last night. The Gabipentin / Trazadone cocktail we gave him did the trick. He snoozed for a little while but most of the time he was awake and watching out a side window or sitting between the seats so Marie could scratch his head. But he was not threatening to eat the other cars on the road. A good things since there were a lot of cars on the road.
The only time he got excited was when we passed the Pizza Plus place in White Pine. I guess he had a bad case of the munchies and wanted to stop for a pie. We didn't stop and he quieted down.
We arrived at the truck top 10 minutes early and the H.E.A.R.T.S. LLC transport was already there. The driver said that new truck is a hauling monster. Even coming up steep grades, it glides along like it's got no load at all. They made great time as a result.
Timber hopped right up into the trailer when they opened the door. They closed the door behind them while they got him settled in the crate: in case he broke away from them and got loose in there, at least he was contained. It took a few minutes before they came out again, so it's possible he gave then a challenge.
By the time they opened up again and showed me the special box they had for him, he was calm. Confused and sad, but calm. It broke my heart when he looked at me saying, "What's going on Doug, aren't you coming too?" But that's just part of doing what I do. Timber is alive because people cared, intervened, and saved him. I was part of that process. Now he's going off to a new home and a new, much better, life. That is what rescue is all about.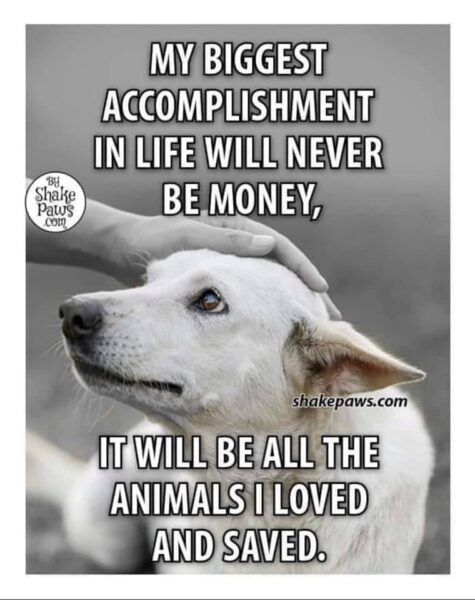 Want to help
save lives?
PMFC is a 501(c)(3) Charity
You can also support us at no cost to you with Amazon Smile
If you enjoy our pupdates, Doggy Tales, and educational articles consider subscribing for notices when new pieces are posted. It's painless and you can unsubscribe any time you want. Your e-mail address is used ONLY to deliver these notices. That's a promise!