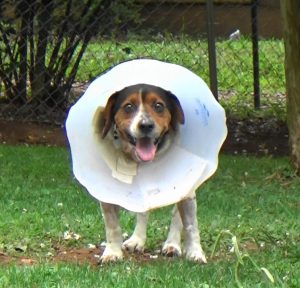 Buddy Beagle, is an 8 year old beagle who was picked up by Animal Control on August 1st 2017. While in their care he was attacked by three large dogs. An eye witness said Buddy didn't fight back, the others were going to kill him and he was going to let them. That's how sweet-natured this guy is.
Until recently Buddy looked like something out of a Frankenstein movie: criss-crossed by lines of sutures where Cedarwood Veterinary Hospital's staff cleaned up his torn flesh and stitched him back together. He had a flap of flesh three-fingers deep hanging off his neck that left is trachea and neck tendons exposed. His rump was torn up just as badly. Cedarwood's staff was not sure he was going to live; many vets would have just put him down, but they tried … and succeeded!
He's also had some plastic surgery to deal with granulations and scar tissue. Buddy Beagle has been in intensive care at Cedarwood for a month, but now he is ready to go into rehabilitation and can be moved to a medically aware foster home. That's where we come in.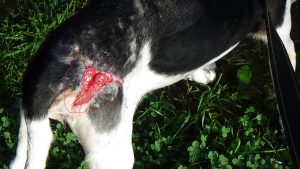 Tessa, a Vet Tech at Cedarwood showed me how to care for his wounds and what to watch for. She explained how they had put him back together. His lower back, right flank and rump had been ripped apart. His anus was hanging as a flap, torn all the way down to his colon. A large chunk of skin (about the size of my hand) was missing entirely. He had deep gashes on his left shoulder, and across his throat, and chest. More patches of missing fur and minor gashes across his back. Portions of both ears were amputated where they'd been shredded. The sutured wounds were healing up nicely, but that patch of missing flesh requires on-going attention.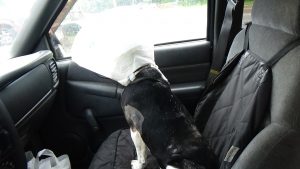 He is in a cone but he's dealing magnificently with his wounds. If he's in pain, he doesn't show it much — except for not wanting to sit on his right hip, and who could blame him for that!
I set up a large crate in the house where I can keep an eye on him.
All the others have come by to say hello, everyone was amiable. That will make things easier. This is likely to be a lengthy stay.
NOTE: Make that a permanent stay. Dr. O'Connor asked us to just keep him. Due to a weird legal situation we cannot officially adopt him, but we will give him a place to live out his life. Buddy is now a forever-foster.
09/08/2017 Buddy Beagle says "Life Is Better With a Donut"
09/22/2017 Buddy Beagle's Lumpectomy
09/27/2017 The Rise of the Brotherhood of the Beagle
10/06/2017 Buddy Beagle's Big Bacon Score
10/18/2017 The De-Bageling of Buddy the Beagle Boy
03/07/2018 Buddy Beagle's Big Bacon Score
03/08/2018 Buddy Goes Into The Wall
03/16/2018 Buddy Beagle and Going Ballistic
04/09/2018 Buddy Beagle Gets Confused
12/22/2018 The Beagle Box
05/24/2019 Buddy Beagle Goes To the Drive-Through Cookie Store
07/24/2019 Beagle Tender
.
| | | |
| --- | --- | --- |
| | If you enjoy our updates, Doggy Tales, and educational articles consider subscribing for notices when new pieces are posted. It's painless and you can unsubscribe any time you want. Your e-mail address is used ONLY to deliver these notices. | |