He's just passing through …

Last Updated: Feb 6, 2021

Base Info:
Arrival date: Dec. 9, 2020
Breed: Staffordshire Bull Terrier mix
Sex: Male
Age: Youth, Adult, Mature, Senior
Birthdate: Feb 13, 2020
Weight: 37 Pounds on Dec. 9
.
Neutered: Yes
General Health: Excellent, Good, Fair, Poor
Temperament: Sweet, playful.
SAFER Test performed: No
Claimed by: Animal Rescue Network of New England

Departure date: January 1, 2021
History
Unknown
Rebel's Progress Summary:
Detailed notes on this foster dog's progress are posted below the summary.
Relational Behavior
Relates well to other dogs: Yes
Can eat food/treats near other dogs: Yes
Preferred style of play: He likes to frolic.  Gets the zoomies sometimes.
Is affectionate: Yes
Is good with:
. Men: Yes
. Women: Yes
. Children: Yes
. Cats: Unknown
Jumps up on people: Some
Mouths: A little, corrects well.
Walks well on a leash: Yes
Commands:
Comes when called: Yes
Sits on command: Yes
Down / Off: Doing better
Shake / Paw: Not yet
Kennels on command: Yes
Diet
💕 Victor Classic – Professional Dry Dog Food
.      1 cup kibble + 2 oz homemade stew  AM
.      ½ cup kibble + 2 oz home made stew PM
💕 PMFC Peanut butter cookies
💕 Retriever Beef Basted Sticks
💕 Jones Beef Hooves
💕 Grillerz Pork Femur
Medical
DA2PPv: Nov. 16, 2020 by Newport Animal Control
. Booster: Dec. 5 by NAC
. 2nd Booster:
Bordatella: Nov. 16 by NAC
Wormed: Dates | Product | Dose | By
.  Nov 20, 2020 Pyrantel Pamoate 2.5 cc by NAC
Rabies: Dec. 9, 2020 by Cedarwood Veterinary
Microchipped: Yes
fi NANO Not registered
To register contact City of Newport Animal Control
Neuter: Dec 9, Cedarwood Veterinary Hospital
Heartworm Test: Dec 9, NEGATIVE by Cedarwood
Flea/Tick preventative:
.
.
Heartworm preventative:
. Dec 10, Ivermectin solution, 0.4 ml
.
NOTES:
.
.
---
Terms of Adoption:
Gallery
In chronological order, newest at the bottom.
Other videos: Rebel In the Yard |
Progress Updates
Progress notes are listed below, in chronological order, newest at the bottom so you can read through this dog's history in order.
Dec. 11
Rebel has been here a couple of days and he has settled in nicely.  He's a super-sweet boy who loves attention.  He is friendly to the other dogs and he and Josie really want to play together.  But they've both just had surgery so that will have to wait a while.  Blade does NOT like Rebel and is giving him a hard time by throwing himself against the metal privacy panel between their kennels.  He has done this so much and so hard that he's broken the panel and jammed the door to Rebel's kennel.  I'll need to repair that today.  When he does this Rebel scampers off into his bedroom and hides out there.  It's a good safe place for him.
Dec 16
Rebel is SUCH a doll: he is so calm and accepting.  He's affectionate too, but not demanding.  Check out the Random Thought on Guillotine Doors for an example.
Josie Darkshep will be leaving on the 18th, that will open a House Dog position that Rebel can audition for.  I expect he will do well and be accepted by all.
Dec 25
Rebel has been a "house dog" for three nights now.  All three nights he has slept soundly in his crate all night long, not needing to go outside until I get up in the morning.  That is normally between 4:00 and 4:30 AM.  Today, being Christmas, I slept in until 5:20 when Buddy Beagle decided he needed to go outside.  Rebel went too.
Normally Rebel will take quite a while to finish all his business: peeing quickly but needing to investigate multiple potential sites for making his deposit.  It was 22° this morning.  Rebel went out, took care of everything all in one spot then RACED back to the door.  Being an hour later than usual probably played into the swiftness of this task.
He has had no accidents in the house: mostly because when he's in free play I watch him constantly and if he seems to be "seeking" we go right outside.  We are having no inter-dog-relationship issues.  After recovering from his surgery his energy levels went up and he's a bit too rowdy for the other dogs to want to play with now.  He intimidates Josephine, annoys Buddy (everything annoys Buddy: he a grumpy old Beagle) Blondie is too old to cavort with him, and Callie is undecided about him.  He could be fin to play with, but she's protective of Josephine, and Josie is scared of him.  So she's conflicted.
He;s getting more free-play in the house.  Learning the rules.  He is intelligent, mischievous, and inquisitive.  He is still a puppy, so he still has puppy mannerisms.  But he can be shaped into a great companion because is does seek affection and wants to please.  I have another week to work with him, then we'll hand him off to his next caretaker as he goes North to seek a forever home.
Also, he has the most wonderful, plush, soft coat of fur.  Petting him is such a pleasure!
Jan 1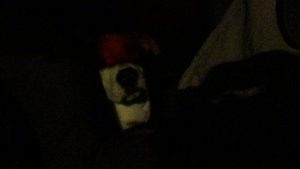 We put Rebel on his long haul transport (HEARTS LLC) for his ride up north.  He rode in the cab of the truck with us for the first time.  Because I've always been alone when I transported him before he rode in a box in the back (not to worry, it's under a shell and strapped down, he's well protected) because of his tendency to need to snuggle.  Snuggling is great when in the house, not so much when I'm trying to drive us at highway speeds.  He rode really well.  Partly because it was 2 hours past his bed time and he was tired.  He slept much of the time.  But whenever I'd change speed or direction he head would pop up between the seats to ask, "What's going on?  Are we in New Hampshire yet?"
We arrived at the truck stop in Bulls Gap TN with just enough time to take Rebel for a walk.  Just as I was loading him back into our truck, the HEARTS transport pulled in next to us and Rebel got really excited about the big truck.  He greeted the driver affectionately, and when the door was opened, instead of shying away like most, Rebel saw all those dogs and said, "PARTY TRUCK, let me in there!  Let's PLAY!" He was ready to ride!
Farewell, and happy tails to you, sweet Rebel.  You start the new year with a new location and beginning a new life.
If I get updates and photos of Rebel in foster and his adoption I'll post them here.
Feb 6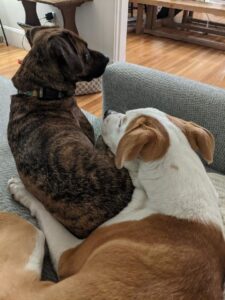 Rebel had some issues getting through NH state quarantine, but these were resolved and he went into a foster-to-adopt home.  We are happy to report that Rebel has been officially adopted by that home and is happy and well cared for.  He gets along famously with is "brother" Dax, too.
Another happy beginning.
Want to help save lives?
PMFC is a 501(c)(3) Charity
You can also support us at no cost to you with Amazon Smile.
If you enjoy our pupdates, Doggy Tales, and educational articles consider subscribing for notices when new pieces are posted. It's painless and you can unsubscribe any time you want. Your e-mail address is used ONLY to deliver these notices. That's a promise!