Sable was a wild child: she'd had NO training but does get along with other dogs and likes people. In fact she craves attention from people. She just didn't know how to relate to us properly. That's why she's here.
Last updated: Sept 12, 2019
Base Info:
Arrival date: April 29, 2019
Breed: Feist-hound mix
Sex: Female
Age: Puppy, Young Adult, Mature, Senior
Weight: @ 35 Pounds
Spayed: Yes
General Health: Excellent, Good, Fair, Poor
Temperament: Affectionate, playful, and feisty
Gets Along with Dogs: Yes
Gets Along with People: Yes
Housebroken/Crate Trained: No
Departure date: Sept. 12th –> S.A.V.E.
History
Sable came here from another foster situation where she was sharing a kennel with at least two other dogs. They were well cared for, but needed training. Before that, it is my understanding, that she was abandoned with her siblings as puppies.
Progress Notes:
Detailed update notes on our foster dogs are posted regularly. For a listing of updates that include Sable [click here]. A summation of her progress is included below.
Dog to Dog Behavior

Relates well to other dogs: Yes Loves playing victim in rowdy play and will act like she's being killed. But she's not.
Can eat food/treats near other dogs: No She is greedy, will get grabby.  Does not growl, however.


Dog to People Behavior

Is affectionate: Yes
Jumps up on people: Yes but more standing up near me than jumping up ON me.

Mouths: Yes But much less now and mostly when she knows I have a treat in my hand.
Walks well on a leash: Almost

House Dog Training

Willingly enters her crate: No / Yes

Is calm/quiet while in crate: No / Yes
Understands going outside to potty
No / Yes

Alerts me of need to go outside
No / Yes

Is destructive of bedding and/or toys
Yes / No

Refrains from kitchen counter cruising: No / Yes

Stays off people furniture: No / Yes

---

Commands:

Comes when called: Yes
Sits on command: Yes
Down / Off: Yes
Shake / Paw: No
Kennels on command: Yes

Sable's Medical

DA2PP: date (by)
Bordatella: date (by)
Wormed: date, product: dose (by)
Rabies: date (by)
Spay/Neuter: date (by)
Heartworm Test: June 13 – Neg.
Flea/Tick preventative:
.  05/01/2019, Effipro, 2.5 cc
.  07/02/2019, Brand unknown
.  09/02/2019, Unknown, 0.6 ml
Heartworm preventative:
. 07/02/2019, ValuHeart, Med. Dog
. 08/06/2019, ValuHeart, Med. Dog
. 09/02/2019, ValuHeart, Med Dog
Gallery
In roughly chronological order, newest at the bottom. Click the thumbnails to enlarge. Some pictures are linked to a Doggy Tale or video about Sable, click those to open the related story or video.
July 8
Sable can play on her own too.  Her favorite game lately is "Kill the Ropey"
After play time sable is eager for some loving and a treat. Mostly the treat, today.

August 6
Sable is doing much better at playing with the other dogs.  Even Josephine (our smaller beagle) is enjoying rowdy play with Sable now that she has learned to scale her play down so she doesn't hurt Josie — because if she hurts Josie, Callie rushes in and STOMPS Sable!  Callie does not hurt her, but lets her now that she MAY NOT hurt Callie's friend Josephine.
Sept 12
Sable left us today, headed to New Jersey.  She rode well, walked to her crate and went in on command.  She tore up her papers spinning around in there, but that's Sable.  She's a sweet kid, just a little nutso.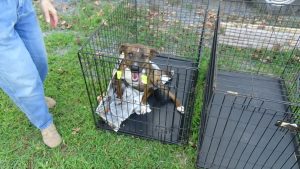 | | | |
| --- | --- | --- |
| | If you enjoy our updates, Doggy Tales, and educational articles consider subscribing for notices when new pieces are posted. It's painless and you can unsubscribe any time you want. Your e-mail address is used ONLY to deliver these notices. | |