Originally published Jun 24, 2016
When Cochise first came to live with us we erected a quick sleeping shelter out of a wire fence panel, a tarp and an old barn door. It was shaped like the top of an old west covered wagon using the door as a floor and the fencing hooped over to support the tarp. Cochise quickly decided it was lots of fun to jump on top of his wickiup and flatten it out. This required that I crawl inside to push it back into shape with my neck and shoulders. It didn't take long before we decided we'd best move on to a permanent structure.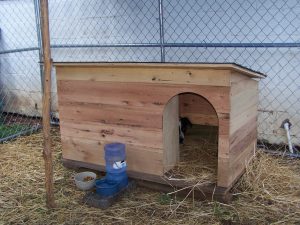 So Marie and I built Cochise a sturdy wooden cabin with a shingled roof that hinges up for cleaning the interior and an entry vestibule separated from his sleeping area by a wind baffle.
That cabin served him well until he became a full-time house dog. Then it served many other foster dogs. Some of these were none too gentle on it and repairs were made over the years, but it still stands and is quite solid … and very heavy.