Today I'm making up and installing top nets on kennels #1 and #2.  Kennel #3 is already done, but because I was up against a deadline (inbound dog) I rushed that one and it's not done as neatly as these are coming out.  But it does serve the purpose of keeping (escape artist) Sable in her kennel.  She has been up standing on top of her dog house to get a closer look at that net, but she hasn't found a weakness yet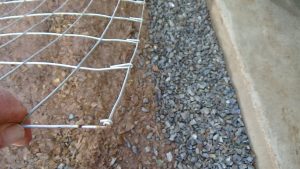 To keep things from falling apart should a weld break while I'm installing the net, I secure the end strands of wire. When I cut the fencing, I cut down the middle between vertical strands so I have tails to work with. Most of these I just fold over to hold things together, but the two at the end corners, I wrap around tightly to hold that joint together if that weld fails.
With two 10 foot runs of fencing cut and ends wrapped, I lay them side by side. Each run of fencing is 4 feet high (wide) so together they just cover the 8 foot wide kennels.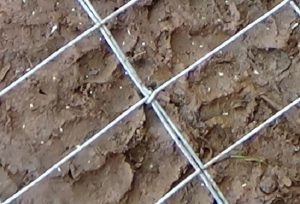 I stitch the runs of fencing together with 3/8″ hog rings. I install one every third juncture, and I install them diagonally – alternating directions of the diagonals so as a whole, the sheet of fencing is locked together and the two pieces cannot slide past one another.