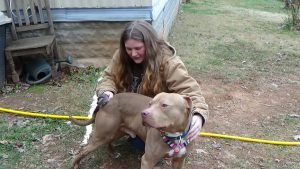 Roscoe is a large, powerful "pit bull" who has been a long time resident of Newport Animal Control (Tennessee). Because of breed specific prejudice, "pit bull" type dogs are often less adoptable than other breeds. Although this is completely undeserved.
Roscoe's presence here is different from most dogs we care for because he continues to reside at N.A.C. but comes here for Day Camp sessions to be evaluated and trained for application to the Universal K9 program, which trains "pit bulls" to be police dogs and is funded by the Animal Farm Foundation, Inc.

When I first met Roscoe, I have to say, he was frightening.